Passengers describe continued crowding on the Block Island Ferry
Many also tell ABC 6 that a portion of the passengers are still not wearing masks.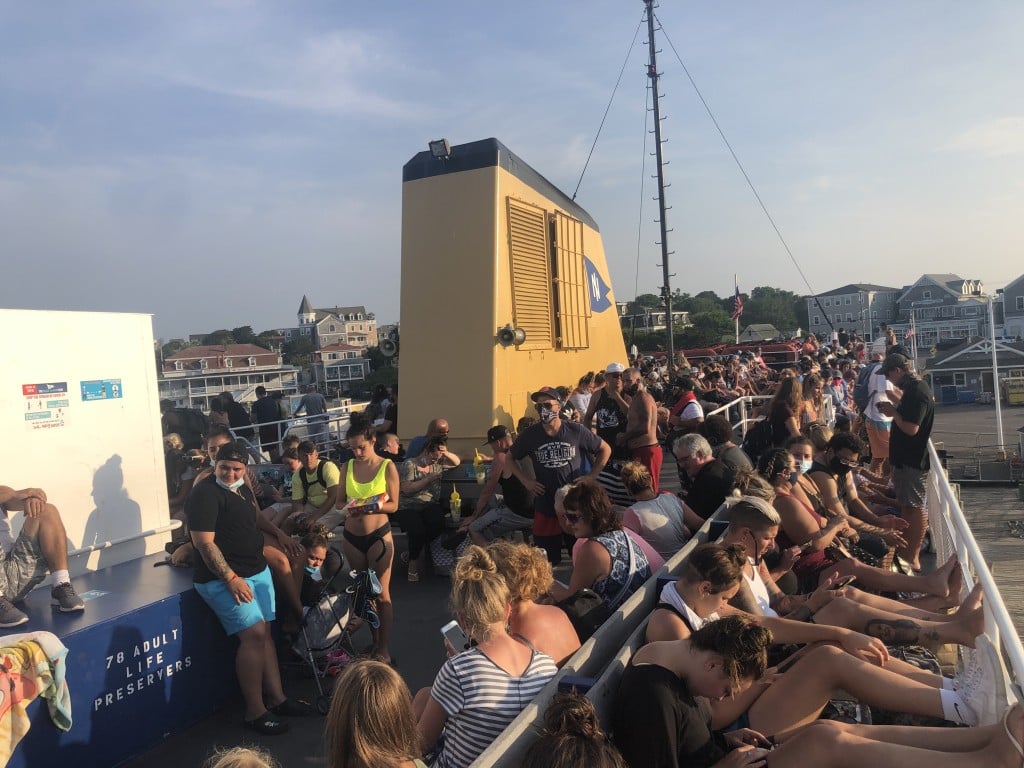 NARRAGANSETT, R.I. (WLNE) – According to passengers, the Block Island Ferry is still seeing issues with overcrowding on its boats.
Just over a month ago, Block Island residents told ABC 6 they were concerned with the lack of mask wearing and social distancing both on the island and the Block Island Ferry.
On Monday evening, our reporter Brittany Comak took the ferry for recreation and noticed similar behavior.
Speaking with passengers on Tuesday, some told ABC 6 they were uncomfortable with the crowding on the ferry, and others felt they'd had enough space.
"There were so many people that there's no way you could even be six feet apart," said passenger Ellie Sanford. "Haven't seen that many people together in a long time."
Those getting off what was supposed to be the last ferry of the night around 8 P.M. Tuesday  told ABC 6 another ferry had to be sent back for the line of people waiting at the terminal. One man estimated it was at least 1000 people long.
"On the line everyone is really close to each other so honestly I was like, not scared but this is definitely not how you should run it," said passenger Marcus Truscio.
"We thought it was going to be more like efficient and everybody was going to be like 'Ok, there's certain sections for everybody to go,' said passenger Justinna Landry. "Everybody was just put together. Half the people don't even wear their masks."
Some had no issue on their return but described overcrowding on the way to Block Island.
"They said it was half capacity but we were like all over each other and it was kind of gross," said passenger Mikeicha Malloy."
Others said the crowds weren't so much an issue as was mask compliance.
"I felt like there was a fair amount of space on the ferry but people were taking off their masks and stuff which is kind of annoying," said passenger Noor Russell.
Despite the concerns one passenger told ABC 6 she's confident enough in Rhode Island's response to the virus.
"Rhode Island is ranked number one in defense against the virus and Gina Raimondo did everything she could," said Malloy. "We're doing pretty good so I'm not too nervous."
Other passengers said they'd like to see more ferries added or less tickets sold.
ABC 6 reached out to the Block Island Ferry to see if there's any possibility of either of these things happening but did not immediately hear back.
ABC 6 also reached out to the Department of Business Regulations to see if any measures could be put in place to restrict overcrowding on the ferry, but also did not immediately hear back.