Patients Outraged Over Paper Clip Dentist Sentencing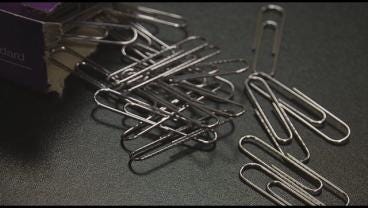 Fall River dentist Michael Clair has been sentenced to one year in jail and five years probation after using paper clips instead of stainless steel posts in root canals.
The decision has Clair's patients frustrated.
"I trusted this guy," Brenda Almeida said. "I thought my kids could get braces sooner. I'll let him do the work, and come to find out, it turns into a horror show."
Soon after Almeida's twin boys got braces in Clair's dentist chair, they knew something was wrong.
"Both of my boys were taking wire cutters trying to break pieces off of their braces because they were in so much pain," Almeida said.
When she took them to the hospital, doctors found a much bigger problem with her son Joshua, who was 16 at the time.
"He did a root canal to me and he ended up using a paper clip instead of a steel post," Joshua Almeida said. "It got infected and it turned black."
The paper clip is one of Clair's practices that led to 15 different charges, including assault and battery and Medicaid fraud. He pled guilty to all of them. He will spend one year in prison and the next 5 years on probation.
Almeida says one year is not exactly justice for her son who is still suffering physical pain 7 years later.
"I know all of the pain and suffering that I went through with my kids, and that was over a year," Almeida said.