Patriots Buck Mile High Trend, Win Big Over Broncos In Denver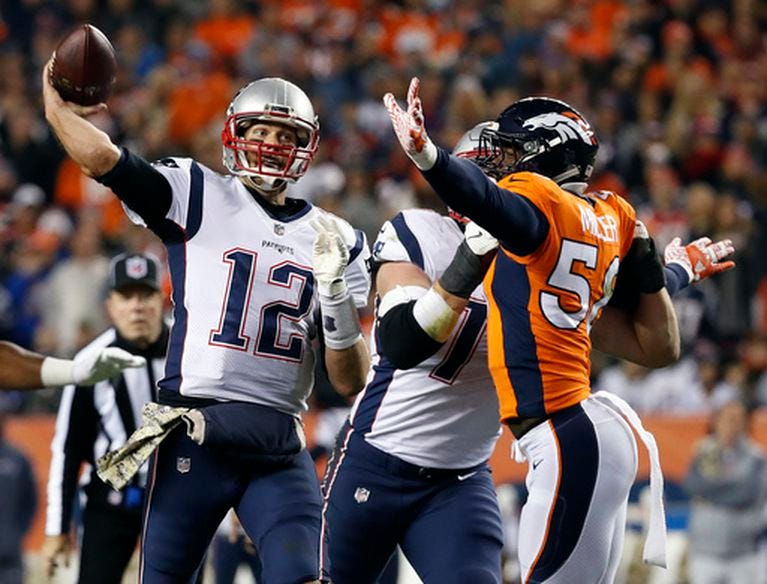 By ARNIE STAPLETON
AP Pro Football Writer
DENVER (AP) – Tom Brady threw three touchdown passes and the New England Patriots matched their own AFC record with their 12th consecutive road victory, pummeling the Denver Broncos 41-16 on Sunday night.
These teams have represented the AFC in the last four Super Bowls, and the Broncos (3-6) were hoping a visit from their rivals would help shake them from their funk, one that included a 28-point loss at Philadelphia a week earlier. With a win, "the swag, the energy in this locker room, it'll skyrocket," suggested Aqib Talib.
Instead, the Broncos fizzled.
They saw their losing streak reach five games, their longest skid in seven seasons, and they lost back-to-back games to the Patriots (7-2) in Denver for the first time since 1966.
Avoiding Von Miller all night and throwing for 266 yards on 25-of-34 passing, Brady improved to 8-9 against the Broncos, the only team he has a losing record against, and won for just the fourth time in 11 trips to Denver.
His 86th regular-season road win broke a tie with Peyton Manning for most all-time.
The Patriots also won a dozen consecutive road games from 2006-08. The NFL record is 18 set by the Joe Montana-led San Francisco 49ers from 1988-90.
AP-WF-11-13-17 0439GMT