Patriots fans attend first in-person training camp since 2019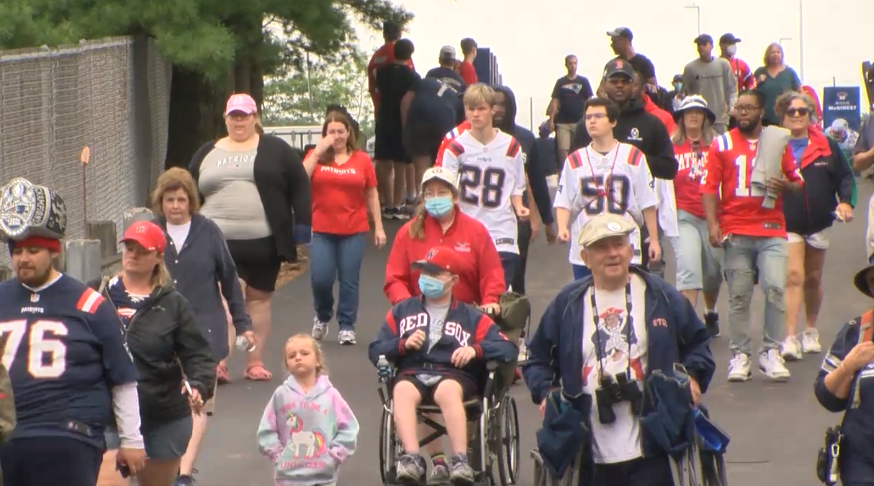 FOXBORO, Mass. (WLNE) – The Patriots are back!
Hundreds of fans gathered at Gillette Stadium for the Patriots Training Camp. It's the first time since 2019 fans are allowed to watch their favorite team practice.
"The boys are really hyped," Eric Amblo said. "We listened to some Chief Keef on the way here, vibing in the car. We're all really excited."
"Looking forward to seeing the fans in the stands, and obviously hoping the Patriots do better," Sue Whitney said.
With the excitement also came concerns of COVID-19 and the Delta variant. The training camp falls just days after second year tight end Devin Asiasi tested positive for COVID despite being vaccinated.
Asiasi and other players who test positive are required to quarantine, but can return once symptoms go away and with two negative COVID tests in 24 hours. Players are also required by the NFL to wear wristbands signaling whether or not they've been vaccinated.
"There are certain requirements on vaccinated versus unvaccinated players and different tiers and access to people and the organization and fans and so forth and so on," Head Coach Bill Belichick said.
Fans could also get the shot. The Pfizer vaccine was offered to anyone attending the practice. Those who got the vaccine got a $25 voucher for concession stands and free admission to the Patriots Hall of Fame.
But most people had other things on their mind, like the quarterback competition between rookie Mac Jones and veteran Cam Newton.
"I'm really rooting for Cam this year," Whitney said. "I think because of COVID, it really impacted his game and I'm so glad he's back and going to give it another go."
"I hope Mac Jones can win out and start the season," Bill Corey said. "That's what I hope. I like Cam Newton but I'm ready to move on and get ready for new blood."
Training camp will continue throughout the week and is open and free to the public. To view the Patriots schedule, visit: Welcome to New England Patriots Training Camp