Patriots fans react to Aaron Hernandez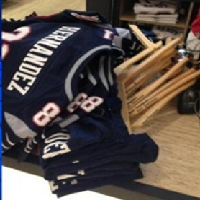 By: Abbey Niezgoda
aneizgoda@abc6.com
It's not a secret anymore. The details of a tight-lipped murder investigation revealed for the first time.
"It's not good for the league. It's not good for the Pats," said Ken Osborne. "It's a shame."
The New England Patriots cutting ties with their tight end hours after Aaron Hernandez was taken out in cuffs.
"He let the team down," Steve Linsky said. "He let the team and his friends and his family all down by being a fool."
Number 81 facing a first degree murder charge less than a week after he was banned Gillette. The Pro Shop emptied out his jerseys, making the mood at the stadium a somber one.
"He's worked very hard for this and it's just a tragedy," David Cameron said.
The team first put out a tweet saying Hernandez had been released.
Then came a statement saying: "Words cannot express the disappointment we feel knowing one of our players was arrested as a result of this investigation."
Some fans choosing to stand behind their player, saying the Pats moved too quickly.
"Patriots just snap got rid of him," Cameron said. "I think the pats overreacted. They shouldn't have released him without getting all the facts first."
Others find what he's accused of hard to defend.
"I kind of feel bad for him, but I would like the truth to come out too," Kathy Tetreault said.
Above all, every fan's focus seems to be on what will happen next season.
"It will be interesting to see what the Pats are going to do," Tetreault said. "They probably want Welker back."
(C) WLNE-TV 2013