Patriots Fans Send Off Players to Super Bowl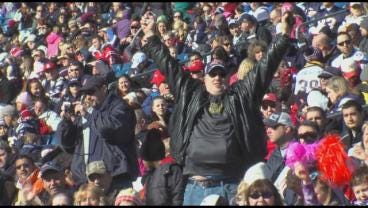 Instead of sleeping in on a Sunday morning, die-hard Patriots fans rolled out of bed and into Gillette Stadium.
"Look at all of these people," Shawn Hillard shouted. "Everybody is waiting to get in this early the morning. It's beautiful!"
They all arrived to see the Patriots take the field in Foxboro one last time before the play on a field in Indianapolis at Super Bowl XLVI.
"I'm here in the freezing cold because I love Tom Brady and the Patriots," Justine Viveiros shouted to the early morning crowd.
While fans waited in the long line to get it, they could not help but weigh in on their game day predictions.
"We're taking it home," Flo Rence said. "Oh yeah! New England's going to have another parade."
As an estimated 25,000 fans cheered from the stands, the players left for Indianapolis, hoping to come back next week with a victory.