Patriots Wide Receiver Julian Edelman Out For 2017 Season With Torn ACL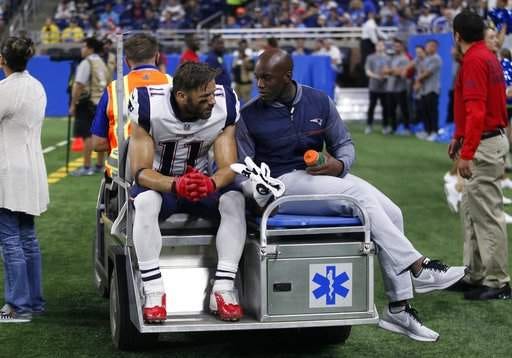 FOXBOROUGH, Mass. (AP) – New England Patriots star wide receiver Julian Edelman will miss the 2017 season after tearing the ACL in his right knee in a preseason game.
The Patriots announced Saturday that Edelman, Tom Brady's favorite target and one of the NFL's most clutch receivers, would be sidelined all season after the non-contact injury in the first quarter of Friday night's preseason game at Detroit.
The 31-year-old Edelman headed downfield after a catch and when he planted his right foot into the turf, he tore the ligament.
Edelman, whose spectacular fourth-quarter reception helped the Patriots' record comeback win in the Super Bowl in February, signed a two-year contract extension earlier this year. He has been, by far, Brady's top pass catcher with 436 receptions over the past four seasons, including the playoffs.
___
For more NFL coverage: http://www.pro32.ap.org and http://www.twitter.com/AP_NFL
AP-WF-08-26-17 2002GMT