Pats Hold Off Bills With a McCourty Pick in the End Zone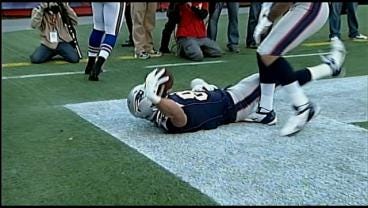 Ken Bell
Bills commit 14 penalties in 37-31 loss to Pats<
By MATTHEW CARROLL=
Associated Press=
FOXBOROUGH, Mass. (AP) _ Buffalo's offense had no trouble moving the ball on New England's defense Sunday.
The Bills just went in the wrong direction far too often.
Despite setting a franchise record with 35 first downs and racking up a season-high 481 yards of offense, the Bills committed 14 penalties and turned the ball over three times, derailing any chance they had at upsetting the first-place Patriots, who narrowly escaped with a 37-31 victory.
"We go into every game expecting to win, but that one, I just felt like it would have been right,'' said Buffalo receiver Stevie Johnson. "But this ain't no Disney movie. This is real life and we've got to make these plays at the end of the game and win.
"I'm tired of just coming up short.''
The Bills (3-6) fell to 2-23 in their last 25 games against New England (6-3) and 0-11 at Gillette Stadium.
And this time, they have only themselves to blame.
The 14 penalties were the most by the Bills since totaling 15 against Minnesota on Oct. 1, 2006, and the 148 penalty yards were the second-most in team history, trailing only the 159 accrued against the Boston Patriots in 1970.
The opening sequence defined the rest of Buffalo's afternoon, too.
After marching 20 yards on four plays to begin the game, the Bills went from a third-and-one at their own 40 to a third-and-21 after a pair of false starts and a holding call.
"The penalties were unbelievable,'' said Buffalo quarterback Ryan Fitzpatrick, who was 27 of 40 for 337 yards with two touchdowns. "When you're looking at it offensively, having a third-and-one and all of sudden going to third-and-21 .?just can't have it.
"We were able to overcome some of them, but there were just too many yellow flags out there for us today.''
Fitzpatrick was stripped of the ball while being sacked on the ensuing possession, leading to a 1-yard touchdown run by Stevan Ridley, and running back Fred Jackson ripped off a 12-yard run early in the fourth before fumbling on the New England 1.
"It's something we talked about going into the game, not giving their offense more opportunities than what they deserve,'' Fitzpatrick said. "Unfortunately that fumble was a big turning point, essentially giving them seven points early in the game. That's something that I guess we weren't able to overcome throughout the game.''
The Patriots let a 17-3 lead slip to 34-31 with 7:47 left on Fitzpatrick's 2-yard?pass to Donald Jones, and Buffalo then held New England to a 27-yard field goal by Stephen Gostkowski.
The Bills quickly moved to the New England 15 before Fitzpatrick threw the ball right into the hands of safety Devin McCourty while trying to hit T.J. Graham in the back of the end zone, ending any hope of a stunning win.
"I had every idea we were going to score and win the ball game by one,'' said Bills coach Chan Gailey. "That was my total thought. I just knew we were going to do that.
"We are not good enough yet to not play extremely well and win. We've got to play extremely well to win. We're not there yet.''
The game was closer than expected considering New England led the NFL in points and yards gained and Buffalo was next to last in points and yards allowed.
The Patriots extended their streak to 11 straight scoring possessions against the Bills with a field goal and three touchdowns on their first four series Sunday. In the previous meeting, a 52-28 win by the Patriots on Sept 30, New England scored on its last seven series _ six touchdowns followed by a field goal.
But not even that _ and 13 Buffalo penalties through three quarters _ could give the Patriots a secure lead and they entered the fourth quarter ahead 31-24.
"It's very frustrating,'' Johnson said. "The way we moved the ball today, the game plan we had, the way our quarterback played, it just seemed like it was right for us to come back and win this game.''
The Patriots led 24-17 at halftime, scoring on a 43-yard field goal by Gostkowski, Ridley's touchdown run, a 15-yard scamper by Danny Woodhead and a 2-yard pass from quarterback Tom Brady to Rob Gronkowski, his fifth touchdown catch in three games.
Gronkowski's touchdown came two plays after Buffalo's fourth defensive pass interference penalty and third in the end zone, covering 36 yards.
The Bills scored on a 42-yard field goal by Rian Lindell, a 14-yard run by Jackson and a 3-yard pass from Fitzpatrick to Scott Chandler with 31 seconds left in the half.
Chandler's touchdown capped the fourth straight scoring drive of the game covering at least 72 yards in less than 3 1-2 minutes.
Woodhead scored again, his first multi-touchdown game of his career, on an 18-yard pass from Brady, who finished 23 of 38 for 237 yards. But the Bills cut the lead to 31-24 on the next possession on a 1-yard run by Jackson and Lindell's extra point.
Gostkowski's 48-yard field goal gave the Patriots a 34-24 lead 50 seconds into the fourth quarter.
Buffalo just couldn't climb all the way back.
"If we were able to win that game, all of a sudden you turn the season around and you forget about the five losses before that,'' Fitzpatrick said. "This is a tough one to swallow for us, especially with the way it ended.''
AP-WF-11-11-12 2348GMT