Paws visits ABC6 studio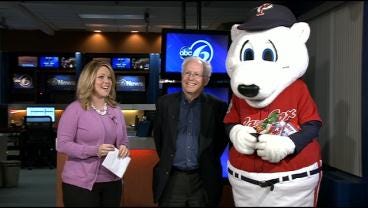 Paws and Pawtucket Red Sox Vice President Michael Gwynn stopped by ABC6 News this morning to talk about some exciting upcoming events.
Some of the events are listed below:
April 4: Pawsox open up the season against Scranton, the Yankees Triple A team, at Scranton at 7 p.m.
April 11: Pawsox home opening night at McCoy Stadium is at 7 p.m. vs Rochester.
On opening night, there will be a special ring ceremony for the players from the 2012 Governors' Cup championship team.
Police & fire will honor guards from all over southeastern new england on the field.
Also look out for:
Dollar Menu Mondays: Hot dogs, cracker jacks, peanuts, popcorn and chips will all be $1.
$10,000 Tuesdays: One fan will come down from the stands and throw a ball at a hole in a target for $10,000.
For more information, click here.