PawSox 5 Run Rally in the 7th Overtakes Mud Hens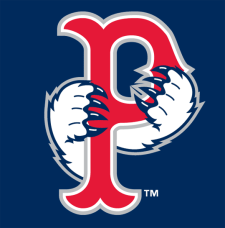 Ken Bell
PawSox news release…
PAWTUCKET, R.I. — The night
after their highest-scoring output since 2008, the Pawtucket Red Sox
were shut out for six innings Wednesday against Toledo, only to reawaken
for a 5-4 win over the Mud Hens in front of 3,928 at McCoy Stadium.
At 49-29 overall, the PawSox have won five straight, all at the expense
of the Mud Hens, and 12 of their last 14 games. With a 22-9 record
since May 24, they are a season-high 20 games over .500.
Coming off a 16-3 rout over Toledo, Pawtucket managed just four hits off
right-hander Derek Hankins until Dan Butler delivered the first of six
consecutive knocks in the bottom of the seventh.
With Butler aboard, another single by Jeremy Hazelbaker prompted manager
Phil Nevin to lift Hankins in favor of lefty Matt Hoffman with a 4-0
lead. The decision backfired. By the time Hoffman (L, 4-2) finished
his third at-bat, the Mud Hens' advantage was
gone.
Jackie Bradley's double scored Butler and Drew Sutton's single brought
home Hazelbaker to halve the deficit. Mitch Maier then completed his
eight-pitch at-bat with a two-run double to tie it at 4-4 and force
another Toledo pitching change.
Brayan Villareal entered and with a 2-0 pitch surrendered a go-ahead
single by Will Middlebrooks in his first game after being optioned from
Boston.
Pawtucket's Chris Martin (S, 1) inherited the 5-4 lead in relief of
Brock Huntzinger (W, 1-0) and after stranding two Mud Hens in scoring
position in the eighth earned his first Triple-A save.
Bradley, who doubled twice, was one of three PawSox to record two hits.
Notes: Wednesday's game was delayed by rain for 50 minutes before the
first pitch…The Sox and Hens meet for the seventh straight game
Thursday at 7:05 on Pawtucket's 34th Annual Armed Services Night…Rubby
De La Rosa (1-1, 2.54) makes the start against
Toledo lefty Kyle Lobstein.