PawSox Beat Sky Chiefs on Wild Pitch Walk Off in the 10th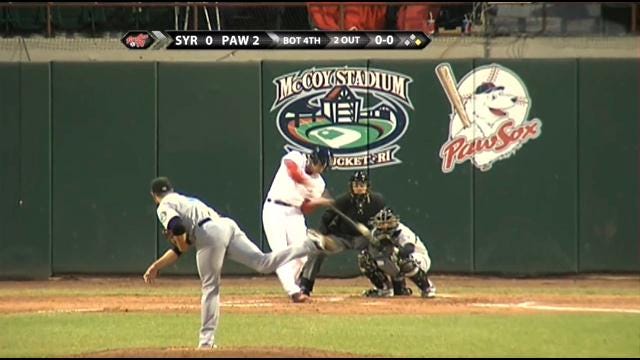 PawSox release…
Pawtucket, RI – Syracuse reliever Dan Stange uncorked consecutive wild pitches with two outs in the tenth, the second one scoring Justin Henry with the winning run from third base to give the Pawtucket Red Sox a 3-2 victory over the Syracuse Chiefs on Monday night in front of 2,199 fans at McCoy Stadium in a game played under a constant drizzle.
The wild pitches gave the PawSox (3-2) the victory in the opener of the three-game series against the Chiefs (1-3). Henry walked with one out against Stange (0-1), then stole second base on a strikeout by Christian Vazquez. Corey Brown was then intentionally walked to bring Brandon Snyder to the plate.
Stange got ahead of Snyder 1-2, but then bounced the next pitch to the backstop to advance the runners to second and third. The 2-2 pitch followed and went even further outside, scooting to the backstop again allowing the winning run to score.
The PawSox held a 2-0 lead into the sixth inning thanks to a two-run fourth inning against Syracuse starter Blake Treinen and solid work on the mound by Chris Hernandez. RBI singles by Snyder and Garin Cecchini gave Pawtucket the early lead, while Hernandez, who entered the game in the second following an injury rehab appearance by Craig Breslow, held the Chiefs bats in check.
Syracuse broke through against Hernandez by scoring an unearned run in the top of the sixth on catcher Jhonatan Solano's two-out single. The Chiefs later tied the game in the eighth when reliever Brayan Villarreal uncorked his own wild pitch with two out bringing home Solano from third.
Breslow tossed a perfect top of the first inning, needing only ten pitches to retire the side in order. It was the Boston lefty's third rehab appearance with Pawtucket and he has yet to allow a run in 2.2 innings of work.
Chris Resop (1-0) worked a scoreless tenth inning to earn the win. The PawSox mustered only four hits in the victory, one each for Brown, Snyder Cecchini and Dan Butler.
Game two of the series is slated for a 6:15 pm first pitch on Tuesday night. Right-hander Allen Webster (0-1, 7.36) will get the ball for manager Kevin Boles, while righty Omar Poveda (NR) is expected to start for the Chiefs.