PawSox Blanked By Clippers Friday, 2-0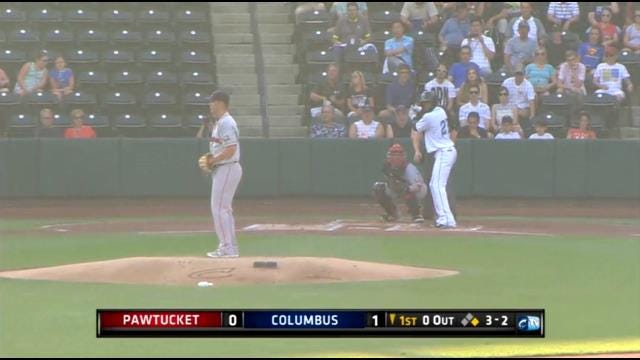 Pawtucket Red Sox Press Release
(Columbus, OH) – Three Pawtucket Red Sox pitchers combined to make just one mistake, but Yandy Diaz' two-run home run in the first inning was all the Columbus Clippers needed in a 2-0 victory on Friday night at Huntington Park.
Columbus (55-46) blanked Pawtucket (51-49) with a three-hit shutout led by starter Nick Pasquale's (1-0) 6.2 terrific innings pitched in his Triple-A debut.
The Clippers have held the PawSox to no runs and four hits over the last 16 innings dating to Thursday's series opener.
Robby Scott (3-3) made his fourth spot start of the season for Pawtucket after Roenis Elias was scratched a couple hours before the game.
Scott, pitching on two days rest, allowed the first Columbus batter of the game, Ronny Rodriguez, to reach on what was ruled a single. Scott fielded Rodriguez' bunt but first baseman Chris Marrero could not handle his flip.
The next batter, Diaz, smacked a two-run home run on a 3-2 count over the wall in left center field for the only two runs of the game.
Despite allowing a single and two walks later in the inning, Scott was bailed out by his center fielder, Ryan LaMarre. LaMarre threw out Giovanny Urshela at the plate on a single into center field to preclude any further damage.
Scott walked a batter for the first time since May 7, snapping a string of 17 straight appearances and 42.2 innings pitched without issuing a free pass.
In fact, after going two months and a half without surrendering a walk, Scott allowed three free passes in his 3.1 innings of work. He struck out five and gave up six hits.
Next out of the bullpen, Roman Mendez delivered 3.2 shutout frames to extend his scoreless streak to 15 innings. Mendez has allowed only four baserunners in 11 July innings pitched.
Joe Kelly pitched the eighth inning, his third scoreless, one-inning relief appearance in the first five days of the road trip. He pitched around a double and an infield single by striking out the final batter of the frame, Eric Stamets, on fastballs.
The PawSox have dropped three games in a row for the first time since they lost four straight from June 21-24.
Pawtucket continues its four-game series against the Clippers tomorrow night at 7:15 p.m. PawSox righthander William Cuevas (6-4, 3.63) is scheduled to make the start against Columbus righty Mike Clevinger (9-1, 2.82). Radio coverage on WHJJ (920 AM) and throughout the PawSox radio network begins with PawSox Insider at 5:45 p.m.
The PawSox return home for a seven-game homestand against the top two teams in the league, the Rochester Red Wings and Scranton/Wilkes-Barre RailRiders, beginning on Monday. Good seats for each game are still available at the McCoy Stadium box office; call (401) 724-7300 or visit pawsox.com to get your tickets today.