PawSox Blanked By Syracuse, 5-0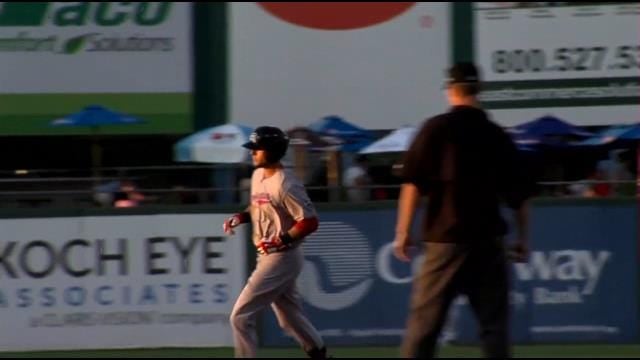 (Pawtucket, RI) – Syracuse Chiefs' starter Richard Bleier threw a complete-game shutout of the Pawtucket Red Sox, 5-0, on Friday night at McCoy Stadium. The Sox were shut out for the second straight night and lost a fifth straight game.
Bleier got 22 of his 27 outs on the ground, allowed only six hits and walked none for the Chiefs, who have won eight straight games against Pawtucket.
The Pawtucket pitching staff walked a season-high ten. PawSox starter Keith Couch was chased after three innings having walked three and allowed four runs. Matt Skole hit a solo homer in the second inning and the Chiefs cashed in on three Couch walks to score three in the third.
The PawSox then turned to Edwin Escobar, who worked around three walks to pitch three scoreless innings. Heath Hembree walked a pair in the seventh but induced a double play to emerge from the frame unscathed.
His third base-on-balls bit the PawSox, as Caleb Ramsey scored to make it 5-0 after he walked leading off the eighth. Noe Ramirez came on, allowed two hits and a walk but struck out Kevin Keyes to end the inning.
The Pawtucket offense got single hits in the first and fourth innings and two knocks in the sixth. Bleier induced a ground ball to end the threat in the sixth. In the seventh, the Sox had consecutive hits for the only time all night, but a double play squelched the rally.
Bleier did not allow another baserunner and fittingly got the last three outs of the ballgame on grounders.
The teams play the third of their four-game series on Saturday at 6:05 P.M. Righthander Jess Todd (3-5, 5.07) goes for Pawtucket and will be opposed by Chiefs' righty Bruce Billings (6-4, 4.31). Radio coverage will begin on WHJJ and online at 5:50 following the PawSox Insider Show, which airs at 5:05.
Good seats for tomorrow and Sunday's games are available; call 401-724-7300 or visit the PawSox online at www.pawsox.com to get them now.