PawSox Blow Big Lead Before Losing 8th Straight Game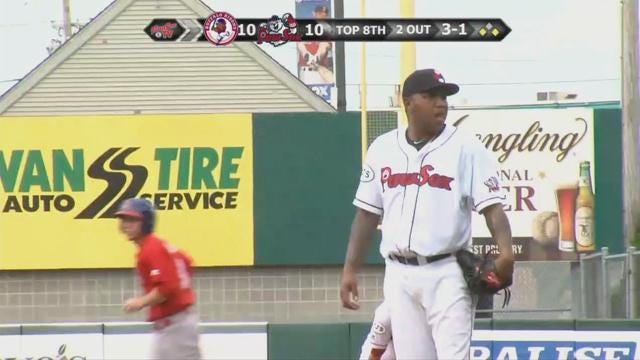 PawSox news release…
(Pawtucket, RI) – Buffalo made up a late six-run deficit by scoring three runs in the seventh and four more with two outs in the eighth and the Bisons came back to stun the Pawtucket Red Sox, 11-10, on Sunday afternoon to complete a three-game series sweep before 6,094 fans at McCoy Stadium.
Jeff Bianchi and Marco Hernandez each drove in three runs in the first three innings of the contest as the PawSox (41-61) built leads of 9-3 and later 10-4. But Matt Hague homered and drove home five for Buffalo (53-49), which scored the final seven unanswered in the contest. Pawtucket dropped its eighth-consecutive contest.
Hague's three-run blast (8) in the seventh against Matt Barnes brought the Bisons within 10-7, then PawSox reliever Edwin Escobar allowed a single and a walk in the eighth and was lifted in favor of newly-added Ronald Belisario with two outs in the frame.
Belisario (0-3) was greeted by an RBI single from Hague that brought Buffalo within 10-8. Alex Hassan then hit a groundball to deep shortstop that went off the glove of Hernandez and could not recover in time, allowing a run to score. The play was ruled an error and made the score 10-9 and left runners on first and second base.
Andy Burns then lined an RBI double to right field that scored Hague and advanced Hassan to third. The PawSox next walked Ty Kelly intentionally to load the bases, and Sean Ochinko drew a walk from Belisario that drove home the game-winning run.
Pawtucket put a runner on base in the eighth, then two men aboard in the ninth, but each rally ended with a double play groundout. Garin Cecchini bounced into a twin-killing in the eighth against Gregory Infante following a one-out walk to Travis Shaw.
In the ninth, Infante issued back-to-back bases on balls to Hernandez and Luis Martinez and was pulled in favor of Chad Jenkins. Jenkins quickly induced a 6-4-3 double play off the bat of Bianchi to end the game and record his first save of the season.
After Buffalo scored three two-out runs in the top of the first against Pawtucket starter Keith Couch, the PawSox rallied to score the next nine runs unanswered. Bisons starter Andrew Albers allowed seven runs in his two-plus innings of work, including two in the second on RBI doubles by Hernandez and Bianchi that tied the game at 3.
Pawtucket scored six times in the bottom of the third, knocking Albers from the game after the first four batters in the inning reached base. Cecchini's two-run single put the PawSox ahead 5-3, then Hernandez lined a two-run double against reliever Todd Redmond that increased the advantage to four runs.
Bianchi capped the rally with a two-run double to left-center against Redmond that put the PawSox in front 9-3. Bianchi went 4-for-6 with two doubles and three RBI, while Hernandez went 3-for-4 with a walk, two doubles, three RBI and three runs scored.
The teams traded runs in the fifth, with Hague's RBI single bringing Buffalo within 9-4 before Jackie Bradley, Jr.'s RBI hit put Pawtucket back ahead by six runs. Couch allowed four runs (three earned) on seven hits in five innings of work. Barnes was charged with three runs in 1.1 innings pitched while Escobar and Belisario each allowed a pair of tallies.
The PawSox enjoy a day off on Monday before welcoming IL South-leading Norfolk to town for a three-game series that begins on Tuesday night at 7:05pm. Pawtucket will start All-Star left-hander Brian Johnson (8-6, 2.73), while the Tides counter with righty Eddie Gamboa (8-6, 3.38).