PawSox, city officials pitch "The Ballpark at Slater Mill" as team's new home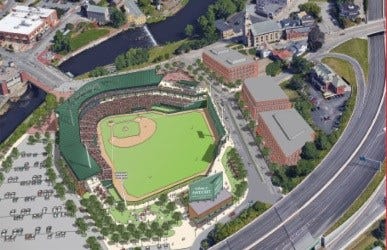 By Alana Cerrone
Email: acerrone@abc6.com
Twitter: @Alana_Cerrone
PAWTUCKET, R.I. (WLNE) — The PawSox are making their biggest pitch yet to keep the team in Pawtucket and move to the former Apex site.
"The Ballpark at Slater Mill" is the vision of the PawSox and city officials after two years of back and forth negotiations.
The 10,000 capacity ballpark will have the same field dimensions as Fenway, and like Fenway, will be home to ice skating, college football, and concerts that Mayor Don Grebien says will cement year round jobs and revitalize the city.
But the million dollar question is how much will it cost?
The answer: $83 million. An investment Grebien calls the biggest in the city's history.
Under the proposed public-private partnership the team will pay $45 million. However, they want $23 million from the state and $15 million from the city.
City and team officials say the park will pay for itself and the taxpayer dollars will be reimbursed over the course of 30 years.
Governor Gina Raimondo says the proposal is better than the first one, and continues in a statement:
I've always believed the PawSox belong in Pawtucket, and my highest priority regarding any state involvement in a ballpark is to protect Rhode Island's taxpayers. The ballpark proposal that the City of Pawtucket and the team has put forward appears to pay for itself, and I credit Mayor Grebien and the PawSox for listening to Rhode Islanders and coming up with a radically different proposal than two years ago. I believe it merits a full public vetting as part of the legislative process.
© WLNE-TV 2017