PawSox Express Rolls On, Beating Scranston-Wilkes Barre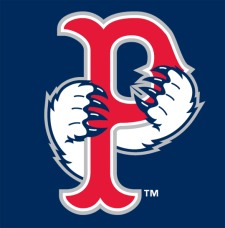 PawSox news release…
MOOSIC, PA
– The PawSox stretched their
winning streak to four games with a 6-3 victory over the
Scranton/Wilkes-Barre RailRiders Wednesday night.
After a scoreless first inning from both clubs, the PawSox got on the board in the 2nd
inning. Mark Hamilton started the inning with a double
and Drew Sutton drew a walk with one out. A wild pitch moved runners to
second and third before Jeremy Hazelbaker doubled to left plating both
runners and making it a 2-0 game.
In the bottom of the 2nd, Allen Webster walked the lead-off hitter before allowing a one-out double to put runners at second and third. An
RBI ground out by JR Murphy put the RailRiders on the board and cut the PawSox lead to 2-1.
Pawtucket would get that run back in the 3rd. Brock Holt led off with a double, he'd move to third on a Ryan Lavarnway single and score on
a sacrifice fly by Mark Hamilton to put the PawSox back in front but a pair, 3-1.
They would tack on two more in the 5th. Three straight singles by Jackie Bradley Jr., Holt and Lavarnway started the inning. Hamilton plated
the first run on an RBI fielder's choice before Dan Butler's sacrifice fly scored Holt giving Pawtucket a 5-1 lead.
Webster retired eight straight heading into the bottom of the 5th,
but a pair of singles got the inning started for Scranton/Wilkes-Barre.
A fly out put runners on the corners before Alberto Gonzalez delivered a
sacrifice fly to right to make it a 5-2 game after five frames.
In the 6th, Webster walked back to back hitters and would depart after recording his 7th
strikeout of the game. Chris Carpenter
came in and allowed an infield single to Ronnier Mustelier to cut the
lead to 5-3. Carpenter would strike out Murphy to end the inning.
Webster's final line was solid with 5.2 innings of work allowing three
runs on three hits while walking three and striking
out seven.
Carpenter would encounter some trouble in the 7th putting runners at first and second with one out, but picked a man off before giving way
to Rubby De La Rosa. The righty would throw one pitch getting a ground out to end the RailRider threat.
Scranton/Wilkes-Barre rallied again in the 8th against De La Rosa with a pair of walks, but a 6-4-3 double play ended the inning with no damage
done and a 5-3 lead.
Pawtucket added a big insurance run in the 9th as Hazelbaker singled, stole second and scored on a throwing error to give the PawSox a three
run advantage at 6-3.
Anthony Carter pitched a scoreless 9th to convert his 21st save.

The
PawSox will continue their four-game set at PNC Field with the
RailRiders Thursday night at 7:05pm. Pawtucket will send knuckleballer
Steven Wright
(6-7, 3.88) to the hill against Graham Stoneburner (3-4, 4.82) of
Scranton/Wilkes-Barre.

Pawtucket
will return home to McCoy Stadium for the final homestand of the
regular season Sunday against Scranton/Wilkes-Barre and Syracuse.