PawSox Extend Lead over Buffalo in Wild Card Chase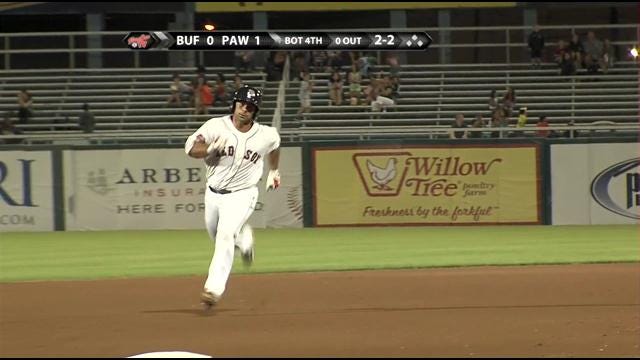 PawSox news release…
PAWTUCKET, R.I. – The PawSox got a terrific start by Clayton Mortensen enroute to a 3-0 victory over Buffalo in front of a crowd of 5,579 at McCoy Stadium Monday night.
After two perfect innings from Bisons starter Kyle Drebek, Pawtucket got on the board in the 3rd taking advantage of a mistake. With one out, Jeremy Hazelbaker struck out, but was able to reach first base on a wild pitch. He would steal second, his 34th, and score on an RBI single by Heiker Meneses to take a 1-0 lead. The PawSox would leave the bases loaded in the frame.
Clayton Mortensen got the start for Pawtucket, an outing after earning his first win as a starter since 2011. He did not allow a hit until the 4th when Clint Robinson doubled off the tip of the glove of Hazelbaker in centerfield with two outs. Mortensen would strand the runner.
Dan Butler would get another run across for the PawSox in the 5th launching his 14th homer run of the season, a solo shot, to give Pawtucket a 2-0 lead.
Drebek departed after pitching four innings allowing a pair of runs on three hits. He walked one and struck out one.
In the 5th, Maneses drew a lead-off walk, stole second and scored on an RBI single by Drew Sutton to make it a 3-0 game.
Clayton Mortensen ran into little trouble during his six innings of work. Only two Buffalo hitters made it to second base. Mortensen allowed just one hit while walking three and striking out five.
Brock Huntzinger and Pedro Beato combined to throw the final three innings allowing just two hits to preserve a 3-0 shutout victory over the Bisons. Beato earned his 4th save of the season.
The PawSox will conclude their four-game series with the Buffalo Bisons Tuesday night at 7:05pm. Pawtucket currently leads Buffalo in the Wild Card standings by 2.5 games with only 15 games remaining on the schedule. Anthony Ranaudo (1-1, 2.70) will start for the PawSox against righty Drew Hutchison (0-1, 10.80) for the Bisons. The two teams have split the first 14 games they've played, with Pawtucket going 4-2 at McCoy Stadium.
The first 4,000 youngsters (aged 14 & under) coming to McCoy this Tuesday night will take home a PawSox back-to-school kit compliments of Citizens Bank, Pepsi, and LITE Rock 105. The kit contains PawSox items such as a ruler, pencil, eraser and other back-to-school items.