PawSox Hammer Braves at McCoy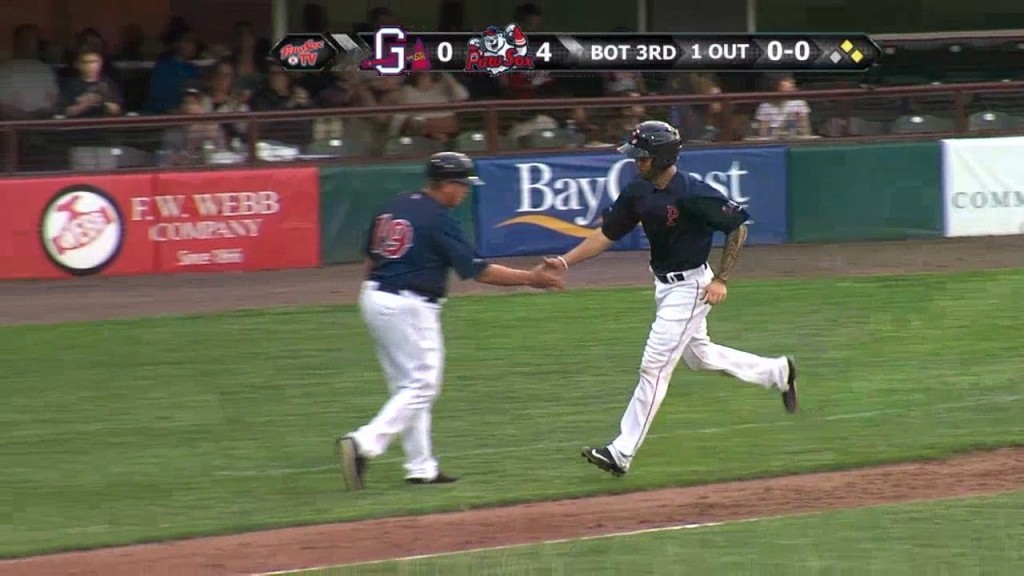 PawSox news release…
PAWTUCKET, R.I. — The Pawtucket Red Sox's bats broke out, and starting pitcher Kyle Kendrick stifled the Gwinnett Braves, as the PawSox cruised to a 10-1 win on a gorgeous Friday night at McCoy Stadium.
Kendrick (W, 1-3) tossed seven innings of one-hit ball, faced just two above the minimum and fanned five. The only hit against the right-hander was a second-inning ground-ball single from his former Phillies teammate Ryan Howard. Kendrick was surgical all evening, firing first-pitch strikes to 20 of the 24 batters he faced.
"Terrific. Had fastball command," Pawtucket manager Kevin Boles said. "I thought what he did early was move their feet. He was able to get on the inner half of the plate and extend off the inner half of the plate, move their feet around, change eye levels. The changeup was effective. He showed a feel for the cutter. He did a lot of things well today."
Pawtucket (9-10) scored more than four runs for the first time in 17 days and recorded its best offensive output since a season-opening 14-7 victory over Lehigh Valley. The PawSox scored in four of the first five innings, combined on a two-hitter and routed the Braves (12-8) in the start of a four-game weekend series.
"We needed to do that," Boles said. "Guys have been pressing a little bit. We need to see more consistency at the plate. Hopefully this is a sign of things to come."
Pawtucket shortstop Deven Marrero (2-for-5, 2B, RBI) recorded his second multi-hit outing of the season, and first baseman Sam Travis (2-for-4), catcher Blake Swihart (2-for-4, HR, 4 RBI) and third baseman Jantzen Witte (2-for-4, 3 RBI) also logged multiple knocks.
Designated hitter Brock Holt (vertigo) began his rehab assignment and batted second. The Red Sox staple had an RBI single in the fifth and went 1-for-3 with a walk.
"Holt was good, said he felt good," Boles said. "It was a good day for him overall."
Pawtucket lefty reliever Robbie Ross Jr., who joined the team from Boston earlier Friday, allowed a run in the eighth.
Highly-touted Gwinnett starter Aaron Blair (L, 1-2) yielded seven runs on five hits and three walks in 2.1 innings.
After a tidy first inning, the PawSox forced Blair into a lengthy second inning. The PawSox loaded the bases with a single and a pair of walks, and Witte clobbered a bases-clearing triple to center field to push Pawtucket to an early 3-0 lead. Marrero then sliced an RBI double into the right-field corner to make it 4-0.
In the third, Swihart pulled a three-run blast to right field to extend the lead to 7-0 and chase Blair from the ballgame. The home run snapped an 0-for-22 stretch for Swihart.
The PawSox loaded the bases again in the fourth inning. Right fielder Steve Selsky, who joined the team earlier in the day from the Red Sox, reeled in Marrero with an RBI groundout. Two batters later, Swihart smoked an RBI single up the middle to make it 9-0.
Pawtucket reached double figures in the fifth on a gentle RBI single to center from Holt.
Gwinnett cut into the deficit, 10-1, with a sacrifice fly to center from catcher Blake Lalli in the eighth.
The four-game series with the Braves continues with Saturday's doubleheader (a pair of seven-inning games), which begins at 4:05 p.m. at McCoy Stadium. Pawtucket right-handers Shawn Haviland (2-1, 3.38) and Marcus Walden (0-2, 3.97) will start.