PawSox Introduce New Leadership Team to Help Determine Future Plans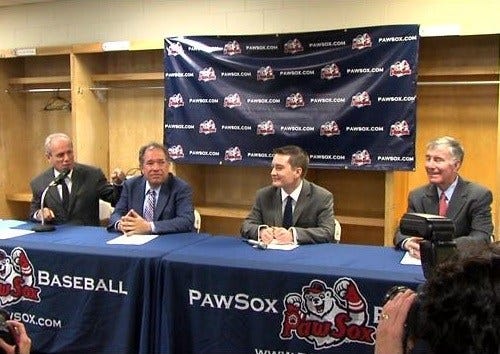 By Ken Bell
kbell@abc6.com
The new PawSox leadership team met the media Monday at McCoy Stadium, as Chairman Larry Lucchino introduced his new executive team.
While Lucchino wanted to keep the focus on 2016, it was clear the new team understood the damage done by the failed attempt to move the PawSox to Providence.
"There were wounds that were suffered by fans here last year and we are acutely aware of those," said PawSox President, Dr. Charles Steinburg.
New General Manager, Dan Rae, points to the passing of owner Jim Skeffington as a major turning point for the new regime.
"You know, I think he had a pathway and vision to make it work, but quite frankly, Jim might have been the only person who could make that work, who had that ability. When we lost him, it forced a change in course and in tactics," said Rae.
Lucchino knows there is now an image problem at McCoy. He doesn't have to look any further than declining attendance.
"It's the cyclical nature of sports. It's the up and down nature of the Red Sox in recent years. It's the passing of Ben Mondor, and it may also be to come degree, the bruising that took place as we talked about the relocation of the team from Pawtucket to Providence. Even though it's only five miles, it may have caused some hurt feelings," said Lucchino.
Dr. Steinburg has earned a great reputation for marketing and has has an idea of what is needed, "It's all personal. At the Boston Red Sox, we would chat about advertising slogans. I said, 'you want one, I'll give you two words, it's personal' because it is for everybody. That's why the wounds were so hurtful," he said.
The new PawSox executive team now must balance its desire for a new ballpark with the present, drawing fans back to McCoy.
© WLNE-TV 2015