PawSox Jump On Late-Arriving Clippers Early In Win Tuesday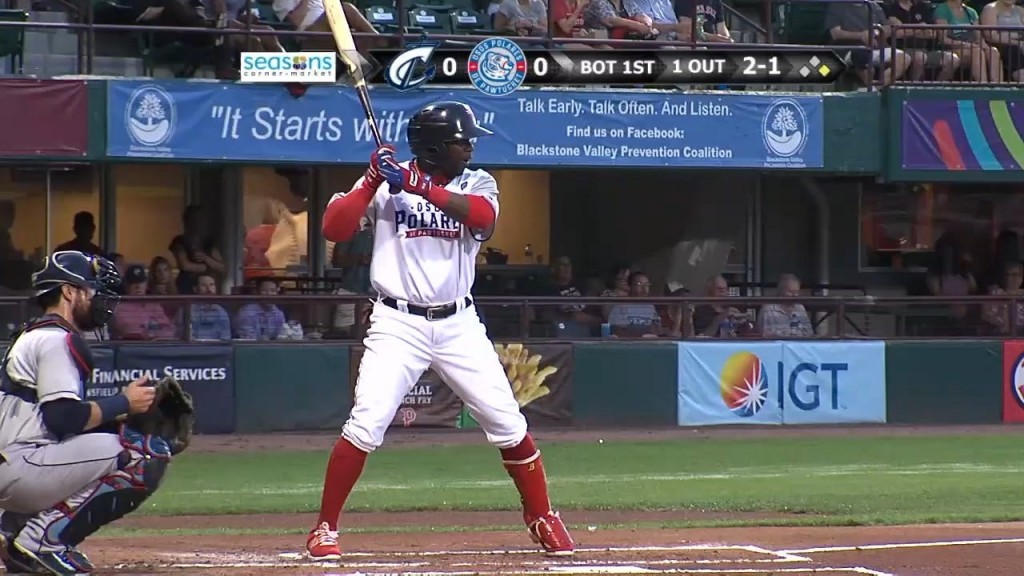 Pawtucket Red Sox Press Release
PAWTUCKET, R.I. — Pawtucket Red Sox starter William Cuevas piled up a season-high nine strikeouts and led the PawSox to a 6-3 win over the Columbus Clippers on Tuesday night at McCoy Stadium.
Cuevas — who was backed by a pair of runs in the first, two more in the third and another in the fourth — and the PawSox grabbed the opener of the three-game series with Columbus (52-48) and snapped their season-long six-game losing skid. The game was delayed nearly an hour before first pitch after Columbus didn't arrive at the ballpark until after 6 PM due to travel delays. In partnership with Minor League Baseball, the PawSox once again played as Los Osos Polares to celebrate the team's surrounding Hispanic community and, on this particular night, those of Columbian heritage.
Cuevas (W, 7-5) — who pitched for Columbia in the 2017 World Baseball Classic — punched out nine over 6.2 sharp innings of two-run work in which he only allowed five hits. In three starts since he returned from the Red Sox, the 27-year old Cuevas has only ceded four runs in 20.2 innings — good for a 1.74 ERA. Cuevas began the night 10th in ERA in the International League among qualifying starters and fourth in WHIP.
"We're starting to see some guys where fatigue is starting to set in, but he's maintained his stuff," Pawtucket manager Kevin Boles said. "He's done a nice job. Had a couple bumps in the road earlier in the year, but he's pitched well. He's been really consistent here. I just think watching his strikeability, he pounds the zone. He's got a real good changeup against right-handed hitters. He's got a real good mix. He's been our most consistent here lately as far as maintaining his stuff throughout his outings."
Southpaw Bobby Poyner (S, 3) struck out a pair in a scoreless ninth inning to button up the victory.
PawSox center fielder Rusney Castillo (2-for-3, 2 R, 2B, RBI), first baseman Sam Travis (2-for-4, R, RBI) and third baseman Iván De Jesús Jr. (2-for-4) provided the bulk of the production in Pawtucket's 10-hit effort.
Columbus starter and former Red Sox third-round pick Stephen Fife (L, 4-6) allowed five runs (all earned) on eight hits and a pair of walks in 4.1 innings.
Following the travel delay, Pawtucket wasted no time offensively, as Castillo ripped an RBI double down the third-base line to plate second baseman Tony Renda all the way from first in the bottom of the first inning. Two batters later, Travis socked an RBI single up the middle to double the lead to 2-0.
The PawSox loaded the bases with one out in the bottom of the third, and left fielder Kyle Wren delivered a sacrifice fly to center field to score Castillo and extend the gap to 3-0. Moments later, Pawtucket shortstop Mike Miller scored Travis with an RBI single blooped to center field.
An inning later, PawSox catcher Dan Butler smacked a solo home run — his fifth big fly of the season — to center field to lengthen the margin to 5-0.
In the top of the fifth inning, Columbus trimmed Pawtucket's lead to 5-1 on a solo jack from right fielder Connor Marabell.
The Clippers pulled to within 5-2 in the top of the seventh inning when shortstop Yu Chang stroked a solo homer of his own.
Pawtucket, however, nabbed that run back in the next half-inning when designated hitter Adam Lind beat the shift with an opposite-field RBI single that scored Renda.
The Clippers loaded the bases in the top of the eighth inning and sliced Pawtucket's lead to 6-3 on a sacrifice fly from No. 3 hitter Brandon Barnes.
The PawSox continue their three-game series with Columbus on Wednesday at 7:05 p.m. at McCoy Stadium. PawSox right-hander Josh A. Smith (2-3, 5.14) is scheduled to oppose Clippers righty Mitch Talbot (3-4, 3.26). Radio coverage on WHJJ (920 AM and 104.7 FM) and throughout the PawSox Radio Network begins with the pre-game show at 6:35 p.m.
The homestand runs July 24-29 (Tuesday-Sunday). Good tickets are available, and fans can visit the McCoy Stadium box office, which is open Monday-Friday from 10 a.m. through 5 p.m., and during all home games. Fans can also call (401) 724-7300 or log on to PawSox.com for tickets.