PawSox Lose Series Finale at Norfolk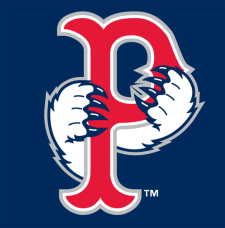 PawSox news release…
NORFOLK, VA– The PawSox made a valiant comeback against Norfolk in the
finale of their four-game series, but stranded the tying run at 3rd base in the 9th inning to fall to the Tides 6-5 at Harbor Park Thursday afternoon.
Knuckleballer
Charlie Haeger got the start for Pawtucket looking to earn a series
split with Norfolk. Haeger came out early and battled his control.
After retiring the lead-off batter on two pitches in the 1st,
Haeger walk the next three to load the bases. Alex Liddi followed with
an RBI single and Yamaico Navarro lifted a sacrifice fly to give Norfolk
an early 2-0 lead.
Pawtucket had scoring chances in the 1st, 3rd and 4th, but stranded runners in scoring position each time.
Haeger settled down over the next couple frames, but, in the 4th,
walked a batter with one out before coughing up a two-run homer to
former
PawSox catcher, Luis Exposito, to give Norfolk a 4-0 advantage. Haeger
would load the bases with one out, but got a crucial double play to get
out of trouble down by just four.
The PawSox came back in the 5th as Alex Hassan connected on a two-run homer (#3) to cut the Tides lead in half, 4-2.
Haeger went out for the 5th, but would not finish it as he issued his 7th walk of the game to start the inning before Navarro doubled
to make it 5-2 and knock the knuckleballer from the game. Chris Carpenter got the final two outs of the 5th keeping Pawtucket within three runs, 5-2.
Pawtucket got that run back in the 6th as Xander Bogaerts and Brock Holt started the inning with singles, and after a fly out moved Bogaerts
to third, Jackie Bradley Jr. brought him home with a ground out to bring the tally to 5-3.
In the 7th, Will Middlebrooks launched a solo homer (#8) to get the PawSox within a run, 5-4.
PawSox reliever Brock Huntizinger in the 7th had a chance a scoreless frame, but a passed ball by Alberto Rosario allowed a big insurance
to score for the Tides making it 6-4.
Rosario
had a chance to atone for his gaffe in the previous half inning as he
came up with Xander Bogaerts, who had doubled to start the inning, at
third
base. Against former Red Sox set up man Manny Delcarmen, Rosario
grounded out to second base to plate Bogaerts getting the PawSox within a
run again, 6-5.
In the 9th,
Will Middlebrooks doubled with one out representing the tying run.
After a strikeout, Drew Sutton walked and a wild pitch moved
Middlebrooks to third, but Jeremy Hazelbaker lost his seven-pitch
battle with closer Adam Russell and grounded out to second base to end
the game with Norfolk take three of four from Pawtucket in a 6-5 win.

Pawtucket will return home to McCoy Stadium for an eight game homestand beginning Friday
through August 2nd against division rival Lehigh Valley
and Norfolk. Allen Webster (5-3, 4.40) will start game one of the
IronPIgs series opening Friday against lefty Greg Smith (5-1, 1.93) the
reigning IL Pitcher of the Week.
Get
in the Holiday Spirit with the PawSox as we celebrate Christmas in July
at McCoy Stadium when the PawSox play Lehigh Valley Friday at 7:05 pm
at
McCoy. Come meet Santa & Mrs. Claus, sing your favorite Christmas
Carols, and enjoy our Christmas Decorations.
Christmas in July is sponsored by SeaScape and Emerald Square Mall.