PawSox Rally From Down 5-0 To Sweep Indianapolis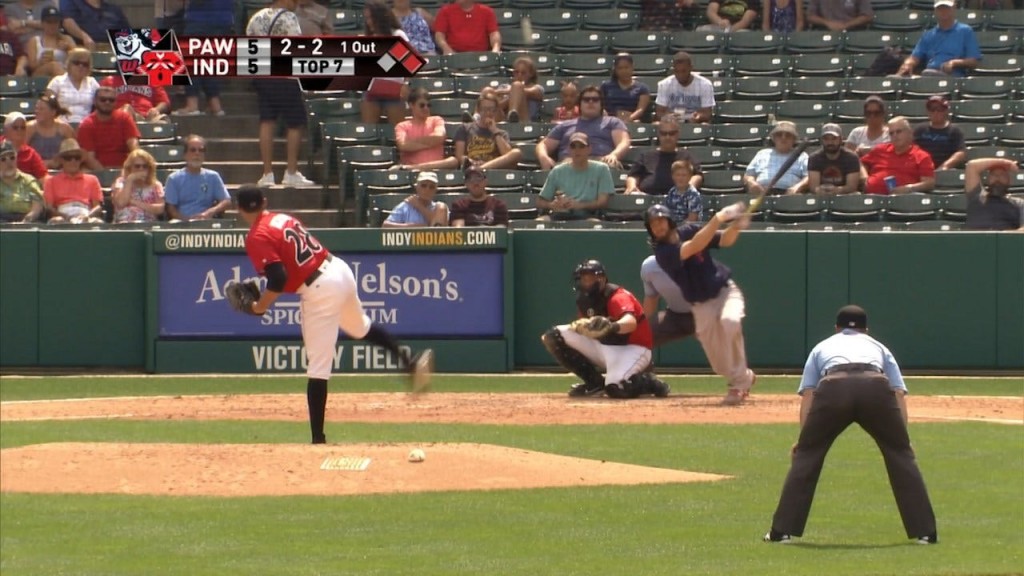 The Pawtucket Red Sox overcame a five-run deficit and scored nine unanswered runs to defeat the Indianapolis Indians, 9-5, and complete a three-game sweep Sunday afternoon at Victory Field.
Indianapolis scored in each of the first three innings and constructed a 5-0 lead in the bottom of the third. Pawtucket, though, whittled down the margin by scoring twice in the fourth, once in the fifth and six times in the seventh to grab their fourth straight win. The PawSox have now won four straight games and seven of their last nine.
Designated hitter Brandon Phillips (2-for-5, 2 R, 2 RBI) capped a torrid road trip in which he went 10-for-20 with six doubles over his last five games. Third baseman Jantzen Witte (3-for-5, 2 R, RBI), shortstop Mike Miller (3-for-5, R, RBI) and left fielder Kyle Wren (2-for-5, 2B, 3 RBI) rounded out an offensive effort in which all nine starters recorded at least one hit.
Pawtucket starter Justin Haley allowed four runs (five earned) on eight hits and a walk across five innings with four strikeouts, and right-hander Josh A. Smith (W, 4-4) followed with four shutout innings of one-hit ball to quell Indianapolis.
Indianapolis starter Tyler Eppler ceded three runs on eight hits and a pair of walks in five frames, and reliever Alex McRae (L, 3-9) surrendered five runs and recorded four outs.
Indianapolis grabbed a 1-0 lead in the bottom of the first inning when shortstop Max Moroff clubbed a leadoff homer.
An inning later, Moroff extended the lead to 3-0 on a two-run single to left.
Indianapolis catcher Ryan Lavarnway delivered an RBI double in the third to stretch the gap to 4-0, and a Pawtucket error later in the inning made it 5-0.
The PawSox chipped away in the fourth on an RBI double from first baseman Sam Travis and an RBI infield single from Wren that made it 5-2.
In the fifth, Pawtucket pulled within 5-3 when second baseman Tony Renda singled to right field, where an error allowed center fielder Tzu-Wei Lin to score.
Two innings later, with the bases loaded and nobody out, Phillips stroked an 0-2 offering back into center field for a two-run single to tie the game, 5-5. Two batters later, Witte handed Pawtucket its first lead of the afternoon with an RBI single. Miller then provided an RBI knock of his own to make it 7-5, and Wren pulled a two-run double into right field.
Following the series in Indianapolis, the PawSox now return home to McCoy Stadium to open up a seven-game homestand that begins Monday at 7:05 p.m. against the Norfolk Tides (Baltimore Orioles). Pawtucket right-hander Chandler Shepherd (6-7, 3.86) is scheduled to oppose Tides southpaw Josh Rogers (7-9, 3.54). The game will be televised live on NESN, and radio coverage on WHJJ (920 AM and 104.7 FM) and throughout the PawSox Radio Network begins with the pre-game show at 6:35 p.m.
Pawtucket's homestand runs Monday-Sunday (August 13-19), and good tickets are available. Fans can visit the McCoy Stadium box office, which is open Monday-Friday from 10 a.m. through 5 p.m., and during all home games. Fans can also call (401) 724-7300 or log on to PawSox.com for tickets.