PawSox Rally in for Five Runs in the 9th, But Lose on a RailRiders Walk-Off in the 11th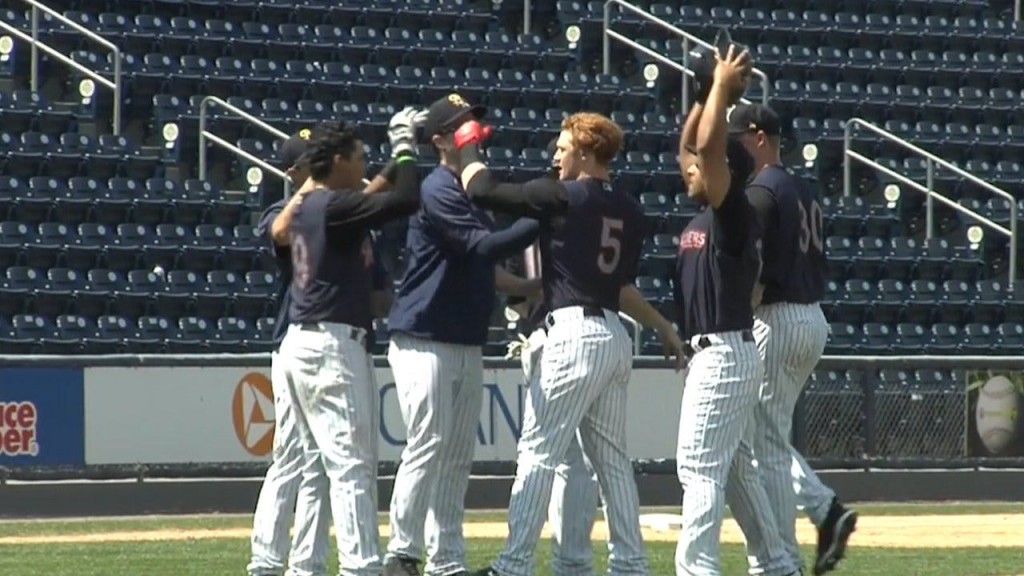 PawSox news release…
MOOSIC, Penn. — The Pawtucket Red Sox overcame a five-run deficit in the ninth inning but fell to the Scranton/Wilkes-Barre RailRiders, 11-10, in 11 innings on a steamy Thursday afternoon at PNC Field.
Down 10-5 in the ninth, the PawSox (15-21) forced extra innings after a game-tying grand slam from third baseman Matt Dominguez. But in the bottom of the 11th, RailRiders top prospect Clint Frazier socked a walk-off, RBI double off the base of the right-center wall to complete the four-game sweep of the PawSox, who've lost eight in a row. The RailRiders (22-16) finished a wild series that featured 17 combined home runs, a walk-off grand slam, a game-tying grand slam and a trio of games decided in the late innings. After not going longer than nine innings in any of the first 32 games this season, the PawSox logged extra innings for the second time this series.
PawSox first baseman Sam Travis (5-for-6, 2 2B, 3 RBI) continued his torrid stretch with his fourth consecutive multi-hit performance — and his seventh in his last 10 games — and the first five-hit day of his professional career. In the series, Travis went 11-for-19 with four extra-base hits and seven RBI. Travis — who got off to a sluggish start and went just 5-for-36 (.139) in his first 10 games — has heated up in May, slashing .368/.410/.632 with three home runs, 12 RBI and four walks against just five strikeouts.
PawSox designated hitter Rusney Castillo (2-for-5, 2B, HR) recorded a pair of extra-base hits for the second consecutive day, while shortstop Ryan Court went 3-for-5 with a pair of doubles.
In his first outing since returning from the majors, where he made a pair of starts, Pawtucket right-hander Kyle Kendrick allowed seven runs (all earned) on nine hits in three innings. PawSox reliever Brandon Workman (2.2 IP, 1 H, 0 R), meanwhile, entered in the fourth and retired the first seven he faced with five strikeouts. Blaine Boyer (2 IP, 1 H, 0 R) and Edgar Olmos (2 IP, 0 H) were also sharp out of the bullpen. Kyle Martin (L, 0-2) got tagged with the loss.
Scranton starter Domingo German made his Triple-A debut and allowed five runs on seven hits and three walks in 6.2 innings. Reliever Joe Mantiply (W, 2-2) worked two shutout innings to earn the win.
Castillo wasted no time in the top of the first, blasting a leadoff solo home run — his team-leading fifth long ball of the season and his second in as many days.
The RailRiders, though, quickly tied the game, 1-1, in the bottom half of the first. Shortstop Tyler Wade led off with a double, moved to third on a wild pitch and scored on an RBI single from center fielder and Pawtucket native Mason Williams. Two batters later, cleanup man Mike Ford pulled a towering three-run home run to right to push Scranton in front, 4-1. Later in the frame, first baseman Cito Culver delivered an RBI double to make it 5-1, as the RailRiders sent all nine batters to the plate in the first.
In the third, Pawtucket pulled closer when Travis laced an RBI single the other way to score Court, who had doubled.
Moments later, Scranton responded with a solo home run from left fielder Clint Frazier to kick off the bottom of the third. Two batters later, third baseman Ruben Tejada teed off on a solo shot of his own to stretch the RailRiders' lead to 7-2.
Pawtucket right fielder Brian Bogusevic led off the fourth by yanking a solo home run to right to slice the gap to 7-3. The home run marked Bogusevic's first hit since returning from the disabled list earlier this week. Later in the inning with the bases loaded, Travis pounded a breaking ball off the left-field wall to plate a pair and make it 7-5.
Scranton loaded the bases in the bottom of the seventh against PawSox reliever Jamie Callahan. After righty Blaine Boyer replaced Callahan and recorded the first two outs, RailRiders No. 9 hitter Francisco Diaz slapped a bases-clearing double to left field to stretch the lead to 10-5.
Castillo doubled to start the ninth and scored on an RBI single from Court, making it 10-6. Travis then singled and Steve Selsky was hit by a pitch, setting the stage for Dominguez. At the time, he was 0-for-4 with a pair of unfortunate breaks. In the third, Dominguez skied a ball to deep left-center, but Williams made a spectacular running catch that left the outfield gate ajar. Two innings later, Frazier scaled the wall in left to take away a home run from Dominguez. But in the ninth, he hammered a low breaking ball to left-center for the game-tying slam.
Frazier, though, supplied the walk-off winner in the 11th when he scored Rob Refsnyder from second.
The PawSox continue their seven-game road trip against the Buffalo Bisons on Friday at 7:05 p.m. at Coca-Cola Field. Rehabbing Red Sox left-hander David Price is scheduled to oppose Bisons righty Mat Latos (0-1, 4.91).