PawSox Ride Barnes to 2-0 Lead Over Syracuse in Best of Five Playoff Series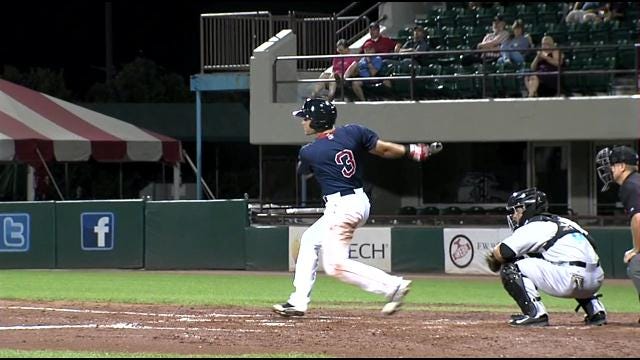 PawSox news release…
(Pawtucket, RI) – Pawtucket starter Matt Barnes shut out Syracuse on only three hits for seven innings while game one hero Garin Cecchini went 4-for-4 with two RBIs as the PawSox drubbed the Syracuse Chiefs, 8-2, Thursday night in game two of the best-of-five International League semifinal series in front of 2,560 fans at McCoy Stadium.
Pawtucket, the IL's wild card winner, leads the series 2-to-0 with game three scheduled to be played at NBT Bank Stadium in Syracuse on Friday night. The PawSox would sweep the North Division champions and advance to the Governor's Cup finals with a victory in that contest.
Barnes (1-0) retired 21 of the 24 batters he faced as he struck out six and did not issue a walk during his 101-pitch outing. The PawSox scored three runs in the first against Chiefs starter Scott McGregor and never looked back, later adding on three more in the sixth and two in the seventh.
Travis Shaw's RBI double with one out in the first opened the scoring against McGregor (0-1), then Ryan Lavarnway followed with an RBI groundout to double the lead. The next batter was Cecchini, who ripped an RBI single to left that plated Shaw and put Pawtucket in front 3-0.
After being handed an early lead Barnes cruised through the Syracuse order, at one point retiring 13 consecutive batters between the second and sixth innings before a one-out double by Jeff Kobernus. PawSox pitching has allowed just three runs and ten total hits over the first two games of the series.
Pawtucket struck for three in the sixth against Chiefs reliever Felipe Rivero. Ryan Roberts drilled a two-run double to deep left-center and two batters later Deven Marrero grounded an RBI single that made the score 6-0.
Cecchini's RBI triple that hit high off the centerfield fence highlighted a two-out, two-run rally in the seventh against reliever Tyler Herron. Roberts also collected a bad-hop RBI single past the third baseman Brandon Laird that completed the PawSox scoring for the night.
Syracuse got on the scoreboard with a pair of runs in the eighth thanks to four walks, three by Pawtucket reliever John Ely. Right-hander Miguel Celestino stranded the bases loaded in the eighth and recorded the final four outs to finish the six-run victory.
Cecchini (4-for-4, two RBI, two runs) and Roberts (3-for-4, three RBI, run) combined for seven of Pawtucket's 12 hits on the night, while Marrero and Jackie Bradley, Jr. each also had a pair of knocks.
Game three of the series is slated for a 7:00pm first pitch on Friday night. Pawtucket manager Kevin Boles will turn to left-hander Henry Owens (3-1, 4.03), while the Chiefs are slated to throw righty Mitch Lively (5-2, 3.86).