PawSox Snap 6-Game Skid, Dominguez and Miller Lead the Way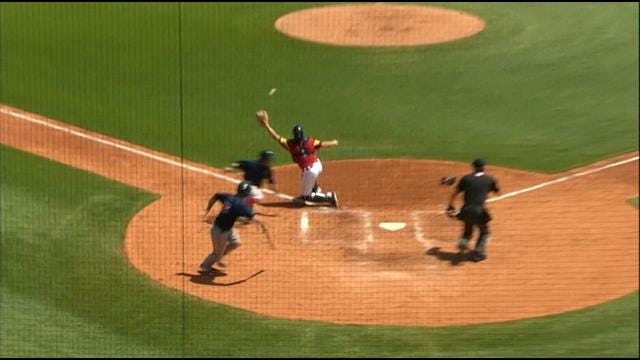 PawSox News Release…
TOLEDO, Ohio — Mike Miller and Matt Dominguez powered the Pawtucket offense, and the PawSox snapped their skid and defeated the Toledo Mud Hens, 5-3, on Tuesday afternoon at Fifth Third Field.
The PawSox (51-50) broke a 2-2 tie with a pair of runs in the top of the seventh and held on to halt their six-game losing streak. Pawtucket had only scored in one of its previous 27 innings in the three games leading up to Tuesday's matinee, the second matchup of the four-game set.
Miller (3-for-3, 2 R, 2B, BB) singled and stole a pair of bases to tie the game in the fifth, then doubled and scored in the go-ahead seventh inning. Dominguez (2-for-5, HR, 2 RBI), meanwhile, extended his hitting streak to 12 games. Rehabbing Red Sox infielder Josh Rutledge (concussion) played seven innings at third base and went 0-for-2 with a walk out of the No. 5 spot in the order.
PawSox starter Kyle Kendrick matched a season-high with seven strikeouts over five innings of two-run ball in which he scattered seven hits. Left-handed reliever and All-Star Edgar Olmos (W, 7-2) followed with three innings of one-run work, and righty Jamie Callahan (S, 4) locked up the victory despite placing runners at the corners in the ninth.
Toledo starter Anthony Vasquez logged six innings and allowed a pair of runs with four punchouts, while reliever Logan Kensing (L, 1-2) ceded the two runs in the seventh.
Toledo struck first when cleanup man and first baseman Efren Navarro pulled an RBI single into right field to score leadoff man Jim Adduci.
Pawtucket tied the game, 1-1, in the second when Dominguez mashed a solo home run off the video board in left field, snapping a streak of 23 straight innings without a run for the PawSox.
Then in the bottom of the fourth, Mud Hens catcher John Hicks one-upped Dominguez and scorched one even higher off the video board, a solo blast that pushed Toledo up 2-1.
With runners at the corners for Pawtucket in the fifth inning, center fielder Rusney Castillo got caught in a rundown between first and second after a pickoff throw. From there, Miller bolted for the plate from third and slid in ahead of the throw, knotting up the game at 2-2.
After Kensing replaced Vasquez to begin the seventh, PawSox catcher Dan Butler worked a leadoff walk, and Miller doubled into the right-field corner. Right fielder Aneury Tavarez then drove in Butler with an RBI single up the middle, and Miller scored on a double-play ball to make it 4-2.
In the eighth, first baseman Sam Travis coaxed a leadoff walk, stole second and scored on an RBI single from Dominguez.
Toledo trimmed the deficit to two, 5-3, in the home half of the eighth on a sacrifice fly from Hicks.
Pawtucket continues its eight-game road trip Wednesday at 7:05 p.m. against the Toledo Mud Hens. PawSox left-hander Jalen Beeks (3-4, 3.06) is scheduled to oppose Mud Hens righty Myles Jaye (1-3, 2.70). Radio coverage on WHJJ (920 AM) and throughout the PawSox Radio Network begins with the PawSox Pre-Game Show at 6:35 p.m.