PawSox Snap Four-Game Losing Streak With Win At Lehigh Valley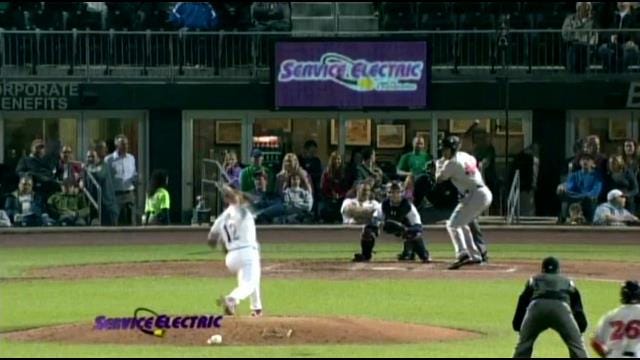 Pawtucket Red Sox Press Release
(Allentown, PA) – For the second time in less than three weeks, the Pawtucket Red Sox began a series at Coca-Cola Park on a four-game losing streak and had their offense take out any frustrations on the Lehigh Valley IronPigs. This time it was an impressive effort from starter William Cuevas and 15 hits, including at least one from everyone in the starting lineup, that propelled the PawSox to an 8-3 victory on Monday evening.
Pawtucket (12-12) has won six of its last seven games at Coca-Cola Park, while averaging nine runs per game in its three contests at the venue this season.
Lehigh Valley (12-11) used a two-run double from Cedric Hunter to take a 2-0 lead in the second inning, but Cuevas (3-1) would retire the next eight batters he faced. Hunter would hit a solo home run (1) in the seventh inning to drive in all three Pigs runs.
After four scoreless innings from IronPigs starter David Buchanan (0-2), the PawSox battled back with rallies in the fifth and sixth innings.
Justin Maxwell led off the fifth with a single, advanced to second base on a fielding error by centerfielder Cam Perkins and scored on a Sandy Leon double. Leon advanced to third on Mike Miller's sacrifice bunt and scored the tying run on another defensive miscue by the IronPigs. Jantzen Witte lofted a flyball to center field that would not have been deep enough for a sacrifice fly, but Perkins airmailed a throw to the plate. The ball deflected off the glove of the pitcher Buchanan, who was backing up on the play, and sailed out of play.
After Sam Travis singled with two outs in the sixth inning, Rusney Castillo delivered a double into right field. Lehigh Valley catcher Andrew Knapp could not corral the throw to the plate and Travis scored the go-ahead run for Pawtucket.
The next batter Justin Maxwell followed with a mammoth blast (2) over the left field fence that extended the PawSox lead to 5-2. Maxwell recorded two hits, two runs and two RBI in the game.
Mike Miller doubled to lead off the seventh inning and scored on a two-out single from Marco Hernandez. Hernandez, who has reached base in all 14 of his games for the PawSox this season, went 4-for-5 with three infield hits in his first game since being optioned from Boston.
Miller singled to lead off the ninth, stole his team-high fourth base of the season and scored on Jantzen Witte's double. Witte scored the eighth and final run for Pawtucket when Ryan LaMarre followed with an RBI double. LaMarre, who batted leadoff for the first time this season, extended his hitting streak to a team-high 12 games.
Meanwhile, Cuevas retired 10 of the final 12 batters he faced in his 7.2 innings of work, the longest outing of his professional career. In two starts since making his major league debut for Boston, Cuevas has allowed a combined three runs and nine hits for a pair of victories.
Relievers Robby Scott and Pat Light each collected two outs to seal the game for Pawtucket.
The PawSox will continue their three-game series at Lehigh Valley tomorrow at 7:05 pm. Lefthander William Cuevas (0-1, 4.91) is scheduled to make the second start on his rehabilitation assignment for Pawtucket against Lehigh Valley righthander Jake Thompson (1-3, 6.16). Radio coverage begins on WHJJ 920 AM and throughout the PawSox radio network at 6:35 p.m.
The PawSox will return to McCoy Stadium on Thursday for the first contest of a four-game homestand against the Rochester Red Wings. Good seats for all games in the series are still available at the McCoy Stadium box office, by calling (401) 724-7300 or by visiting pawsox.com.