PawSox Snap Losing Skid, Beat Gwinnett Braves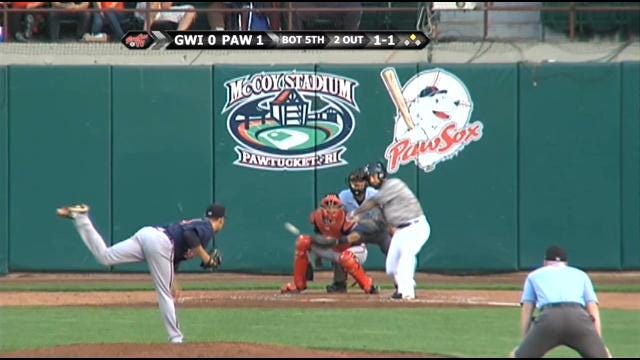 Pawtucket Red Sox Press Release
Pawtucket, RI – Anthony Ranaudo pitched 6.2 shutout innings and Ryan Roberts clubbed his first home run with Pawtucket as the PawSox snapped a seven-game losing streak with a 3-2 victory over the Gwinnett Braves in front of 6,242 fans Monday night at McCoy Stadium.
Pawtucket (26-26) won for the first time since May 17 thanks in large to the work of Ranaudo (5-3), who blanked the Braves on only four hits and four walks. He struck out four and has now allowed only one run total in his last three starts (19.1 innings).
Hill worked the final 2.1 innings and despite allowing two runs in the ninth was able to record his first save of the season. Hill struck out Todd Cunningham with the tying run on first base to end the game.
The PawSox scored all three runs with two outs in the fifth inning against Gwinnett starter Daniel Rodriguez (4-5). With Christian Vazquez on first base and two away, Mike McCoy lined an RBI double into the left-centerfield gap to open the scoring.
Roberts followed with a blast onto the grass seats in left, a two-run shot that made the score 3-0. Rodriguez allowed only seven hits in seven strong innings, recording seven strikeouts with no walks issued.
Edward Salcedo (RBI double) and Jose Constanza (RBI single) plated runs for Gwinnett (27-22) in the ninth against Hill. The Braves stranded nine runners on base including four in scoring position.
McCoy went 3-for-3 with an RBI and a run scored to spark the PawSox offense. Travis Shaw went 1-for-3 in his Triple-A debut for Pawtucket.
Game two of the series is slated for a 7:05 pm first pitch on Tuesday night. Right-hander Matt Barnes (1-2, 4.35) will get the ball for manager Kevin Boles, while righty Gus Schlosser (2-1, 6.87) is expected to start for the Braves.
Good seats are still available at the McCoy Stadium box office, by calling (401) 724-7300 or by visiting pawsox.com. Radio coverage on 920 AM (WHJJ) and also streaming online begins at 6:50 pm.