PawSox Split DH In Rochester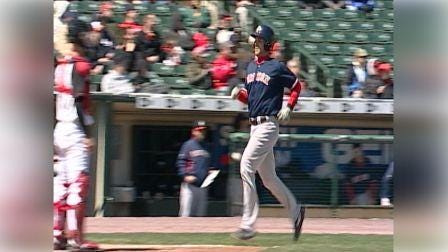 PawSox Release
ROCHESTER,
N.Y. — The Pawtucket Red Sox went from one offensive extreme to the
other Sunday, splitting a doubleheader against the Rochester Red Wings
with an 8-1 win and 2-0 loss.
Held to one hit through the first five innings of the opener, the PawSox
again broke through with a big 6th opposite the Red Wings. In sweeping a
doubleheader from Rochester last Saturday in Pawtucket, the Sox totaled
10 runs in the 6th inning.
On Sunday, after spotting the Wings a 1-0 lead, they struck for five
against starter Kyle Gibson (L, 0-3) and Luis Perdomo, who inherited a
no-out, bases-loaded jam. Perdomo walked Mitch Maier to force in the
tying run, before surrendering a go-ahead, RBI single
by Drew Sutton and a two-run double by Jose Iglesias. Jonathan Diaz's
groundout against another reliever, Tyler Robertson, brought home the
fifth run.
Ahead 5-1, Pawtucket added three more in the top of the 7th, after
Robertson walked the first three hitters. Iglesias picked up his third
RBI with a groundout and Jeremy Hazelbaker added a two-run single.
While Rochester's four pitchers combined to walk 10, the PawSox trio of
Graham Godfrey, Ryan Rowland-Smith (W, 2-0) and Anthony Carter yielded
just four hits and fanned seven.
In Game 2, however, right-hander P.J. Walters (W, 1-2) allowed only
singles by Hazelbaker and Brandon Snyder in a complete-game shutout.
Walters struck out five and walked just one.
The only scoring resulted from Ray Olmedo's double off PawSox starter
Chris Hernandez (L, 0-2) in the last of the 4th inning. With his one-out
hit, Olmedo drove in Evan Bigley, who walked, and Eric Fryer, who
reached on an infield single.
Meanwhile, Walters kept Pawtucket hitless the final four innings for his
first victory, giving the Red Wings wins in two of the first three
games of the series.
They'll stage the finale Monday at 7:05 p.m., when Terry Doyle (2-0,
0.98) starts for the PawSox (11-6), who haven't dropped a four-game
series at Rochester since 2009.