PawSox Starter Brian Johnson Named IL All-Star, Manager Kevin Boles to Serve as Coach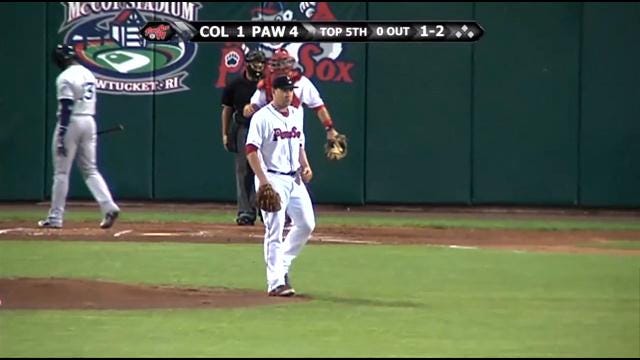 PawSox news release…
The Pawtucket Red Sox are pleased to announce LH starter Brian Johnson has been elected to the International League All-Star Team for the 2015 Triple-A All-Star Game that will be played on Wednesday, July 15 at 8:00 pm EST at Werner Park in Omaha, Nebraska. The 2015 International League All-Star team is made up of 13 elected players who have received the most votes from ballots submitted by league managers & coaches (1/3), media representatives (1/3), and online fan voting (1/3). The elected players are joined by 17 additional All-Stars selected by the IL office. Each of the IL's 14 clubs will be represented in Omaha.
In addition, PawSox manager Kevin Boles, who guided Pawtucket to the 2014 Governors' Cup Championship, will be a coach on the IL All-Star team that will be managed by Syracuse skipper Billy Gardner, Jr.
The 2015 Triple-A Game marks the 18th straight year that All-Star teams from the International League and the Pacific Coast League will face each other (the International League leads the series by a 10-7 margin since the game changed to the current IL vs. PCL format). The game will be played the night after the Major League All-Star Game and will be televised live on MLB Network and broadcast on the PawSox Radio Network (920 AM WHJJ the flagship).
LHP Brian Johnson, 24, is 8-5 with a 2.68 ERA in 15 starts for the PawSox this season. He is tied for the International League in Wins (with Durham LHP Scott Diamond), is 5th in ERA and tied for 3rd in the league in Strikeouts (76). Johnson is also among IL leaders in a host of other pitching categories including…1st in WHIP (1.08), 1st in Fewest Baserunners/9 IP Ratio (10.15), 2nd in Highest SO/9 IP Ratio Among Starters (8.48), and 4th in Lowest Batting Average Against at .214 (teammate Henry Owens leads at .187).
Johnson was outstanding this April as he made a successful regular-season Triple-A debut with the PawSox going 3-1 with a 0.86 ERA in 4 starts that month. He has also been sharp at home going 5-2 with a 2.31 ERA in 8 starts at McCoy Stadium. On May 29th he had a perfect game through 6-innings at home vs. Louisville before being removed when he reached his pitch count (74) after retiring all 18 batters he faced with 9 strikeouts. Brian was forced from his last start on June 29 in Rochester after throwing just 5 pitches (all balls) as he was suffering from food poisoning. He walked the one batter he faced, who ended up scoring, saddling Johnson with the loss in a 3-0 defeat.
Johnson was named 2014 Boston Red Sox Minor League Pitcher of the Year after combining to go 13-3 with a 2.13 ERA in 25 starts last season between High-A Salem and Double-A Portland. He posted the best ERA among Red Sox farmhands and also ranked among organizational leaders in wins (3rd) and strikeouts (2nd). Promoted to Portland on May 2 of last year, he led the Eastern League in ERA (1.75), WHIP (0.93), and opponent average (.189) and was named an Eastern League mid-season All-Star. He started one playoff game each for Portland and Pawtucket (allowing 4 ER in a total of 13 IP).
Brian was a 1st round selection (#31 overall) by Boston in the 2012 June Draft out of the University of Florida where he was a two-way player (pitcher and first base). He is 23-14 with a 2.34 ERA (82 ER in 315 IP) in 63 career minor league starts. Prior to this season, Baseball America ranked the 24-year-old as the Red Sox' fifth-best prospect in the Red Sox system.
Some other notable PawSox players who have appeared in the Triple-A All-Star Game since the event began in 1988 include: INF Tim Naehring (1990), 3B Scott Cooper & OF Phil Plantier (1991), RHP Brian Rose (1997), OF Trot Nixon (1998), RHP Tomo Ohka (2000), RHP Bronson Arroyo (2003), OF Brandon Moss (2007), RHP Clay Buchholz (2009, although Buchholz did not attend as he was called-up to Boston), catcher Ryan Lavarnway (2012), RHP Rubby De La Rosa (2013) but he was held out of the game, and in 2014 RHP Anthony Ranaudo and C Christian Vazquez but neither played as Ranaudo started for the PawSox just before the All-Star Game and Vazquez was called-up to Boston just prior to the game. LHP Tommy Layne represented the PawSox last season in the 2014 All-Star Game in Durham.