PawSox Starter Jalen Beeks Impressive in McCoy Debut Against Bisons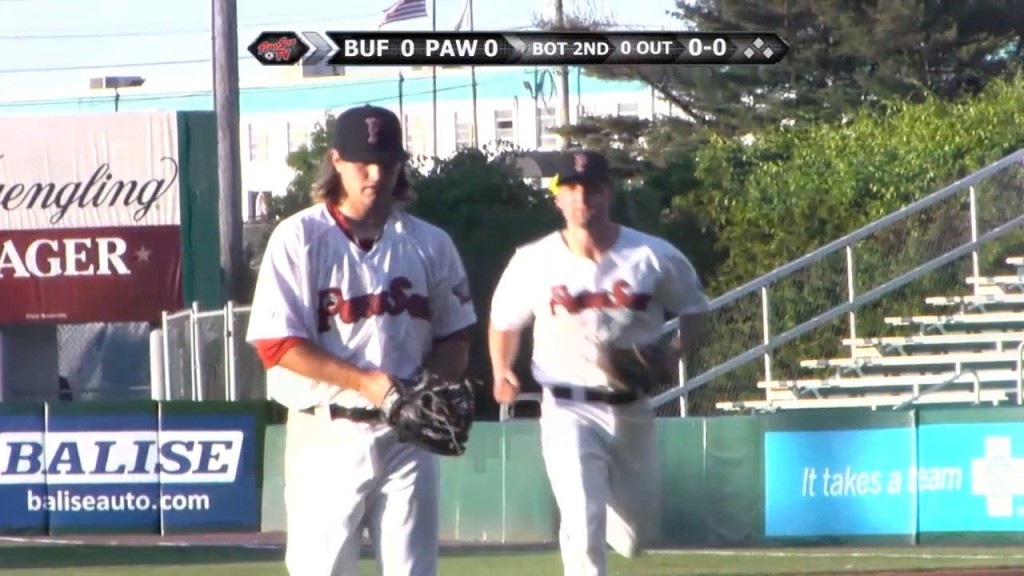 PawSox news release…
PAWTUCKET, R.I. — Starting pitcher Jalen Beeks impressed in his McCoy Stadium debut and led the Pawtucket Red Sox to a 7-3 win over the Buffalo Bisons on a beautiful Friday night.
"I thought he was terrific," Pawtucket manager Kevin Boles said of Beeks. "First time through the lineup, again, I thought that fastball-cutter mix, his changeup had some dive to it. I thought he was able to get his breaking ball for land strikes early in the count as his outing developed. Overall, a job well done."
The PawSox (29-27) crafted a 4-0 lead in the fourth inning and hardly looked back in winning the second game in as many nights to begin the four-game series with the Bisons (31-28). Pawtucket has now won 13 of its last 16 games and extended its home winning streak to 10 games — the longest such stretch since a 10-game run in 1995. Before allowing a run in the sixth, PawSox pitchers had logged 23 consecutive scoreless innings.
In his second career Triple-A start, Beeks (W, 1-1) yielded just two runs (one earned) on four hits and a walk while piling up eight strikeouts (including four of the first six batters to start the night). The 23-year old southpaw retired the first 10 batters and only faced two above the minimum through five frames. After a walk, single, error and single to begin his sixth and final stanza, Beeks responded by setting down the next three in order with a pair of punchouts, the second against former Red Sox catcher Jarrod Saltalamacchia.
"Another thing he did was establish his fastball in," Boles said. "He moved some feet around. The cutter, he picks lanes. He's got the cutter that goes into righties, and he's got the changeup that's got some fade and some dive away. He's got some interesting weapons that he can pitch to all different parts of the zone."
PawSox reliever Austin Maddox, flashing his mid-90s fastball, struck out three and allowed a run in two innings. In his last five outings since his promotion back to Pawtucket from Double-A Portland, the former Florida Gator has worked 9.2 innings and ceded just one run with nine strikeouts.
"He's pitched well every time he's come here. This was the best we've seen him tonight [in two years]," Boles said. "Looked like the power was there. He threw the slider, locked up a couple hitters. He threw a pretty good changeup too. He made one mistake up in the zone on a changeup, but overall that's the best we've ever seen the ball come out of his hand."
Buffalo starter Cesar Valdez (L, 2-1) gave up four runs on five hits and a pair of walks in six innings.
Pawtucket shortstop Ryan Court (2-for-5, 2B, 3B, 3 RBI) powered the offense, which has combined for 18 runs in the first two games of the series.
PawSox second baseman Mike Miller dropped a bunt single down the third-base line and reached as the first baserunner of the game with two outs in the bottom of the third. After center fielder Rusney Castillo walked, both Miller and Castillo scored on a two-run double spun down the right-field line by Court to make it 2-0.
In the fourth, Pawtucket catcher Blake Swihart smoked an RBI double into the right-center gap to reel in right fielder Brian Bogusevic all the way from first. Third baseman Jantzen Witte then made it 4-0 with an RBI fielder's choice that plated Swihart.
Buffalo placed two aboard in the sixth with nobody out and grabbed its first run on an error from Miller on a likely double-play ball. The Bisons then trimmed the gap to 4-2 when No. 3 hitter Jason Leblebijian rolled an RBI single through the right side.
In the bottom of the seventh, Court sliced an RBI triple to the wall in right-center to score Castillo and make it 5-2. Two batters later, left fielder Bryce Brentz dumped an RBI single into right to score Court, and first baseman Sam Travis later scored on a steal and a wild pitch.
Buffalo right fielder Dwight Smith Jr. yanked a solo home run to right to cut the margin to 7-3 in the eighth.
The PawSox continue their four-game series against the Buffalo Bisons on Saturday at 6:15 p.m. at McCoy Stadium. PawSox right-hander Héctor Velázquez (4-1, 1.47) is scheduled to oppose Bisons righty Lucas Harrell.