Sox Give Minor League Honors, Wright Wins Lou Gorman Award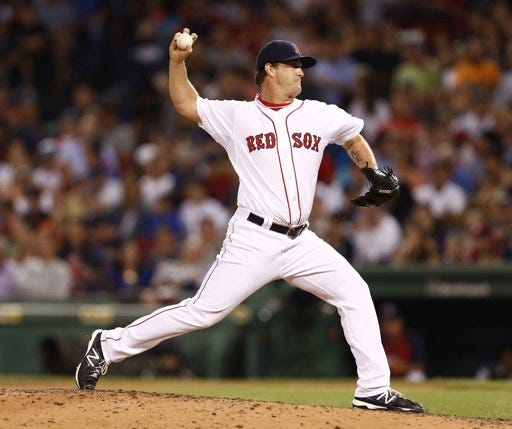 Red Sox news release…
BOSTON, MA—The
Boston Red Sox today announced left-handed pitcher Henry Owens has been
named the team's Minor League Pitcher of the Year and second baseman
Mookie Betts has been named Minor League Offensive Player of the Year.
The club has tabbed catcher Blake Swihart as the Defensive Player of the
Year with shortstop Deven Marrero receiving the organization's Base
Runner of the Year Award. Left-handed pitcher Dedgar Jimenez and third
baseman Victor Acosta represent the Dominican Summer League Red Sox as
Minor League Latin Program Pitcher and Player of the Year,
respectively.
Also
being honored is right-handed pitcher Steven Wright, the organization's
winner of the Lou Gorman Award. Created in 2011, the award is given
annually to a Red Sox minor league player who has demonstrated
dedication and perseverance in overcoming obstacles while working his
way to the Major League team.
The
2013 Minor League Awards are selected by the Red Sox baseball
operations department and minor league roving instructors. The
recipients will be honored during a pre-game, on-field ceremony tonight
as the Red Sox continue their series with the Toronto Blue Jays.
Owens
combined to go 11-6 with a 2.67 ERA (40 ER/135.0 IP) and 169 strikeouts
in 26 starts between High-A Salem and Double A-Portland. The
21-year-old led organizational leaders in strikeouts, the most for a Red
Sox minor leaguer since Clay Buchholz' 171 in 2007. He also tied for
the most wins and ranked third among leaders in ERA. A Carolina League
Pitcher of the Week for July 15-22, he was also a Mid-Season All-Star
and threw 19.1 consecutive hitless innings from July 11-28 with the
Salem Sox. Owens went 3-1 with a 1.78 ERA (6 ER/30.1 IP) for Portland
following his promotion from High-A Salem on August 1. He struck out 46
and walked eight in six starts with the Sea Dogs. Named the No. 5
prospect in the Red Sox organization by Baseball America at the start of 2013, Owens was the Red Sox sandwich pick between the first and second round of the June 2011 draft.
The
20-year-old Betts hit .314 (145-for-462) with 36 doubles, four triples,
15 home runs, 65 RBI, and 81 walks in 127 games with Single-A
Greenville and High-A Salem, including a .341 average (63-for-185) in 51
games for the Salem Sox. He was named South Atlantic Player of the
Week for May 6-13 and was selected as a South Atlantic League Mid-Season
All-Star. He was also a two-time Carolina League Player of the Week
(August 5-12 and August 19-26) and ranked third among CL playoff leaders
with a .412 (7-for-21) average in five games for Salem. The Red Sox
eighth pick (fifth round, 172nd overall) in the June 2011 draft, Betts paced all Red Sox minor leaguers with 38 stolen bases and ranked second in batting.
Swihart
committed just 10 errors in 841 chances for a .988 fielding percentage
in 101 games at catcher with High-A Salem. The 21-year-old led the
Carolina League in putouts (743) and assists (88). He batted .298
(112-for-376) with 29 doubles, seven triples, two home runs, 41 walks,
and 42 RBI in 103 games with Salem. Named a Mid-Season All-Star for the
Carolina League, Swihart ranked among both organizational (4th) and league (T-5th) leaders in batting. Swihart was selected as the second pick by the Red Sox (first round, 26th overall) in the June 2011 draft.
The
23-year-old Marrero was tied for the third-most stolen bases in the Red
Sox organization with 27, and was caught stealing just two times for an
93.1 percent success rate in 104 games between High-A Salem and
Double-A Portland. He entered the 2013 season as the 10th ranked prospect in the organization according to Baseball America.
He combined to hit. 252 (102-for-404) with 20 doubles, 26 RBI, 52 walks
and 57 runs scored for the Salem Sox and Sea Dogs. Marrero was
selected as the first round pick by the Red Sox (24th overall) in the June 2012 draft.
Jimenez
was 4-3 with a 1.50 ERA (10 ER/60.0 IP) in 13 starts for the Dominican
Summer League Red Sox, ranking among league leaders in ERA (8th).
The 17-year-old held opponents to one earned run or fewer in 11 of his
13 starts. He led the team in starts (tied) and strikeouts (55).
Acosta
hit .256 (60-for-234) with 11 doubles, 8 home runs 39 RBI, and 25 walk
in 63 games for the DSL Red Sox. The 17-year-old was tied for third
among DSL leaders in homers and was selected as a Dominican Summer
League All-Star. He paced the club in average, RBI, home runs, and
total bases (97).
Wright
made his major league debut on April 23 with the Red Sox and is
currently in his fourth stint with the club. Drafted by the Cleveland
Indians in the second round of the June 2006 draft, Wright turned to the
knuckleball as his primary pitch in 2011 as a way to reinvent his
career. He is 2-0 with a 5.40 ERA (8 ER/13.1
IP), 10 strikeouts, nine walks, and a .245 opponent batting average
(12-for-49) with Boston. The 29-year-old right-hander went 8-7
with a 3.46 ERA (52 ER/135.1 IP), 65 walks, and 99 strikeouts in 24
regular season starts with Triple-A Pawtucket. He also went 1-1 in two
starts for the PawSox in the playoffs, allowing no earned runs (2
unearned runs) with a team-high 11 strikeouts and 13 innings pitched in
the postseason.