PawSox Stop 12-Game Losing Streak with Win Over Iron Pigs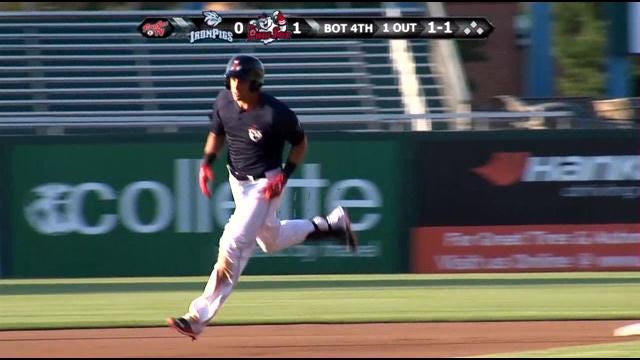 PawSox news release…
(Pawtucket, RI) – Allen Craig, Garin Cecchini and Daniel Nava spearheaded an offensive eruption for the Pawtucket Red Sox, who snapped a 12-game losing streak with a 7-2 win over the Lehigh Valley IronPigs on Saturday night at McCoy Stadium. Keith Couch – who made the start after Brian Johnson was promoted to Boston – was backed by 16 hits and earned his fourth win.
Craig had his first four-hit game with the PawSox, including a game-tying knock in the fifth inning. Cecchini laced a pair hits and blasted his sixth homer, which gave the PawSox a 1-0 lead in the fourth. Nava had three hits, drove in three and was hit by a pitch as Pawtucket halted the second longest losing skid in franchise history.
Couch held the IronPigs off the board for the first four frames and was spotted the lead on Cecchini's big fly. In the fifth, Lehigh Valley strung together a two-out rally for what would prove to be their only lead of the game.
Ethan Chapman – playing his first AAA game – tripled to right and scored on Chase d'Arnaud's single to centerfield. Cord Phelps then singled before d'Arnaud scored on an Aaron Altherr hit that made it a 2-1 game.
The Sox (39-51) tied it with two outs in the bottom of the fifth. Jackie Bradley, Jr. ignited the rally with a single to center. Carlos Peguero then ripped a base hit to right before Craig singled to right to score Bradley and knot the game.
Nava singled with two outs in the sixth off of IronPigs starter Jason Berken to score Jonathan Roof and put Pawtucket ahead for good. The PawSox struck the decisive blow in the seventh.
Seth Rosin allowed consecutive one-out hits to Craig and Cecchini; on the second, Craig raced around to third. Roof hit a sacrifice fly to center that made it 4-2. Matt Spring then singled home Cecchini, who had stolen second. Mike Miller then singled to left before Nava's two-run double to left made it a 7-2 PawSox lead.
Jonathan Aro hurled two scoreless innings and earned a hold before Noe Ramirez recorded a perfect ninth inning.
The last game before the All-Star break is scheduled for Sunday afternoon with first pitch slated for 1:05pm. Steven Wright (2-4, 3.60) will get the start for Pawtucket while Lehigh Valley counters with lefty Anthony Vasquez (4-3, 5.01)