PawSox Sweep Two Game Series at Lehigh Valley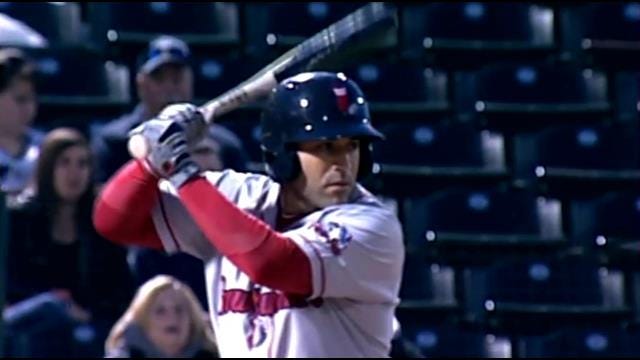 PawSox news release…
(Allentown, PA) – The Pawtucket Red Sox bats stayed warm on Friday night at Coca Cola Park, as five different PawSox recorded multi-hit games on their way to a 6-5 victory, beginning the season's first road trip with a two-game sweep of the Lehigh Valley IronPigs.
The IronPigs (2-5) cut the deficit (that was once 6-2) to a single run in the ninth inning, sending the tying run to the plate with two outs. But the PawSox (4-5) withstood the Lehigh Valley comeback attempt thanks to Jorge Marban who came out of the bullpen to strike out Angelys Nina and end the game.
Rusney Castillo drove home Pawtucket's first two runs of the game in his 2016 PawSox debut, while Chris Marrero recorded a pair of doubles to complete a series in which he went 6-for-8 with four extra-base hits.
In the first inning, Castillo stroked a double to right field in his first Triple-A at-bat of the season, driving home Deven Marrero on a very close play at the plate.
After Lehigh Valley starter Adam Morgan (0-1) pitched around a Chris Marrero double in the second inning, Castillo delivered an RBI groundout in the third inning to score Deven Marrero.
Sandy Leon's RBI single capped a two-run rally in the fourth inning. He singled again in the sixth inning and scored the second run of the frame on a throwing error by Lehigh Valley shortstop Ryan Jackson.
William Cuevas (1-1) delivered a quality start for his first win of the season, allowing three runs in 6.2 innings of work. Two of the three runs were driven in by Taylor Featherston, who hit a solo home run in the fifth inning.
Anthony Varvaro retired all four batters he faced in relief of Cuevas. However, reliever Kyle Martin hit a wall in the ninth.
Martin allowed two singles and then hit Featherston with a pitch to load the bases with one out. After a force out and a David Lough single to center field, the IronPigs had runners on first and second with two outs.
But Marban relieved Martin to earn his first career Triple-A save.
Pawtucket has won four straight games overall against the IronPigs and five of its last six games at Coca Cola Park dating to last season.
The PawSox continue the season's first road trip tomorrow, opening another two-game series at Buffalo. Pawtucket lefthander Brian Johnson (0-1, 2.25) is scheduled to face off with Bisons righthander Casey Lawrence (0-1, 9.00) in the 4:05 pm contest. Radio coverage on 920 AM (WHJJ) and also streaming online begins at 3:35 pm.
The PawSox will return to McCoy Stadium on Friday, April 22 for the first of a five-game homestand, beginning with a three-game series that will also be against Lehigh Valley.