PawSox to Induct Late-owner Ben Mondor and Hall of Famers Jim Rice and Wade Boggs into Inaugural Team HOF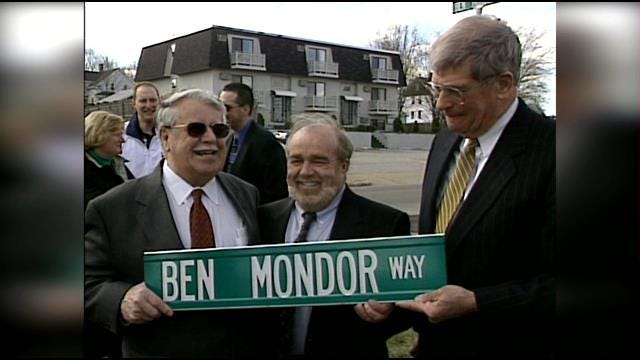 PawSox news release…
Pawtucket, RI – Ben Mondor, the late long-time PawSox owner, along with former Pawtucket Red Sox and Boston Red Sox legends Wade Boggs and Jim Rice, both National Baseball Hall of Fame players, have been selected as the inaugural 2016 PawSox Hall of Fame inductees.
The first-ever PawSox Hall of Fame class was chosen by a 15-person panel, which includes club executives, print and broadcast media members, long-time fans, and historians. Details on events surrounding the PawSox Hall of Fame will be announced at a later date.
Ben Mondor, who passed away in October of 2010 at the age of 85, will forever be known as the man who saved professional baseball in the State of Rhode Island. At the time of his passing, Mr. Mondor, who is survived by his wife Madeleine, had just completed his 34th year as PawSox owner.
In 1977, after having retired from the corporate business world, Ben acquired the "Rhode Island" Red Sox, the Triple-A International League affiliate of the Boston Red Sox, by the National Association of Professional Baseball. The organization was bankrupt and had been deprived of its membership in professional baseball.
During the next 34 years, Mondor, who teamed with current PawSox Vice Chairman Mike Tamburro, turned what was once one of the worst franchises in minor league baseball into one of the most successful in all of baseball as over 14 and a half million fans attended a game at McCoy Stadium while Ben owned the club.
Ben's historic career was captured for eternity when he was enshrined in the Boston Red Sox Hall of Fame in 2004. According to the Red Sox Hall of Fame selection committee, "Ben Mondor rescued Triple-A baseball in Pawtucket and over the last 28 years has turned the PawSox into one of the most beloved franchises in Minor League Baseball. Along the way, he has contributed to the development of countless Red Sox prospects on the road to Fenway Park." Four years later, on July 20, 2008, Mondor was officially inducted in the International League Hall of Fame as part of the first class welcomed to the IL Hall of Fame since 1964.
Following a record-breaking 1999 season at the newly-renovated and expanded McCoy Stadium, when the PawSox finished 3rd in the nation in attendance, Mondor earned some of the top honors in the industry. That December, Ben received the "Sporting News Executive of the Year Award" and then in January the "Judge Emil Fuchs Award" for long and meritorious service to baseball from the Boston Baseball Writers.
As patriarch of Rhode Island's oldest and most successful professional sports organization, Mr. Mondor was known as a "fan's owner". He effectively created a warm, friendly, and clean baseball atmosphere with both affordable ticket and concession prices for the entire family. Ben was a proud member of several Boards of Directors and Trustees and was involved in a large number of the top charitable organizations throughout the state of Rhode Island. He also created the Pawtucket Red Sox Charitable Foundation to help support numerous charitable groups throughout New England.
Page 2
Jim Rice is the only player in the last 44 years to win the International League Triple Crown when he hit .337 along with 25 HR and 93 RBI in just 117 games for the PawSox to lead the league in all three categories. He is one of only six players to capture the IL Triple Crown in the 132 years of the International League. Rice, who is Pawtucket's all-time hitting leader with a .340 average, joined the PawSox late in the 1973 season (at the age of 20) and helped lead the club to the Governors' Cup Championship and the Junior World Series title. He was the IL MVP in 1974 despite being promoted to Boston in mid-August.
Rice ranks among the all-time Boston Red Sox leaders in at-bats (3rd), runs (4th), hits (3rd), doubles (6th), triples (6th), HR (3rd), RBI (3rd), walks (8th), slugging pct. (8th), and total bases (3rd) among others. An 8-time American League All-Star outfielder (1977-80, 83-86), Jim was enshrined in the National Baseball Hall of Fame in Cooperstown in 2009. He was also a member of the first class of Red Sox Hall of Fame inductees in 1995 and was elected to the International League Hall of Fame in 2008.
Jim is the only player in MLB history to have three straight 35-homer, 200-hit years (1977-79). He earned the 1978 American League MVP when he led the majors in hits (213), HR (46), RBI (139), triples (15), slugging pct. (.600), and total bases (406) as he became the only AL player to reach 400 total bases since 1937. Rice played all 2089 games of his big league career with the Red Sox and hit .298 with 382 HR & 1451 RBI.
Wade Boggs is the last PawSox player to win the International League batting title when he hit .335 in 1981. In his first (and only other) season with Pawtucket in 1980, at the age of 21, he hit .306 and lost the batting title by less than a point when he grounded out in his final at-bat of the season. His other claim to fame with the PawSox came during the Longest Game in Professional Baseball history in 1981 when his RBI single in the bottom of the 21st inning extended the game that the PawSox eventually won in 33-innings, 3-2. He was inducted into the International League Hall of Fame in 2011.
Wade was Major League Baseball's best hitter during his 11-year Red Sox career. He was inducted in the Red Sox Hall of Fame in 2004, the National Baseball Hall of Fame in 2005, and will have his uniform number 26 retired by the Red Sox this coming May 26, 2016. The number 26 will be the 10th on the right field facade of Fenway Park joining fellow PawSox Hall of Famer Jim Rice (#14).
Wade's .338 career batting average with the Red Sox is second only to Ted Williams (.344). A 12-time American League All-Star overall, Boggs was an 8-time All-Star during his 11 seasons with Boston from 1982-92 trailing only Carl Yastrzemski (18) and Williams (17) for most in franchise history.
With the Red Sox, he won five batting titles (including four in a row from 1985-88), led the league in on-base percentage six times, earned six Silver Slugger Awards, recorded at least 200 hits in a franchise-record seven different seasons, and is the only player in MLB history with 200 hits and 100 runs scored in seven straight seasons.
Boggs ranks third in team history with a .428 on-base pct. behind only Williams (.482) and Jimmie Foxx (.429) and fifth in hits (2,098), doubles (422), walks (1,004), and times on base (3,124). Only seven players have appeared in more games for the Red Sox than Boggs, whose 1,520 games at third base are a club record.
In his entire 18-year career, which included stints with the New York Yankees (1993-97) and Tampa Bay Devil Rays (1998-99), Boggs hit .328. Wade won Gold Glove Awards at third base in both 1994 & 1995 with the Yankees, thus becoming the oldest first-time Gold Glove winner among non-pitchers at the age of 36 in 1994. As a 41-year-old in 1999, his final season, he became just the 23rd member of the 3,000-hit club, and the first player in history to reach that milestone with a home run.