Pawtucket cigar shop robbed at gunpoint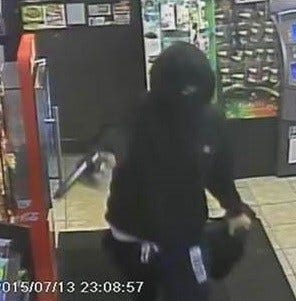 By News Staff
Pawtucket Police are looking for the man suspected of robbing BK House of Cigars at gunpoint.
The store clerk tells police that around 11:15 Monday night, a man walked into the store with a black bag in one hand and a gun in the other. He put the bag on the counter, pointed the long black and silver revolver at the clerk and told him to put the money in the bag.
The suspect took off on foot with an undisclosed amount of cash. He was last seen heading south on Broadway.
The clerk described the suspect as a white or light-skinned male, about 5'9" tall and thin, weighing about 160-180 pounds. He was wearing a black mask covering his entire face except for his eyes, a black hooded sweatshirt with a white t-shirt, and black sweatpants.
Anyone with information about this incident is asked to contact Detective Raymond Doran at 401-727-9100 ext 742.
© WLNE-TV 2015