Pawtucket fish market robbed at gunpoint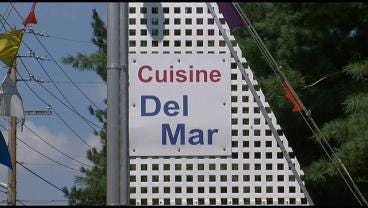 By Abbey Niezgoda
Twitter: www.twitter.com/abc6
PAWTUCKET, R.I. – Pawtucket police were fishing for fingerprints at a fish market on Lonsdale Avenue Monday morning. They say a man walked behind the counter at Cuisine Del Mar with a gun.
The two young women, who were only filling in at the family business, handed over roughly $300. Customers say whoever it was had to have known the man who usually runs the market has been out of town.
"It was probably planned," Walter Toro said. "They probably knew the two ladies were here by themselves."
The employees say the suspect appeared to be Hispanic, about 5' 8'' and wearing red sunglasses. After taking the cash, he hopped into a Hyundai with temporary plates and drove off. He is still on the loose.
If you have any information, please contact the Pawtucket Police at 401-727-9100.