Pawtucket Man Runs 7 Marathons on 7 Continents in 6 Days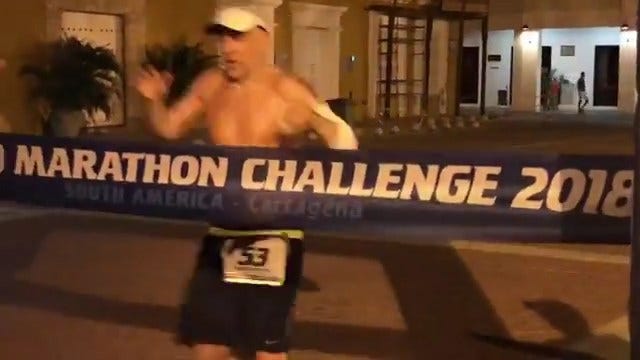 By: Tim Studebaker
Facebook: @TStudebakerABC6
Twitter: @TStudebakerABC6
Email: tstudebaker@abc6.com
PAWTUCKET, R.I. – Try to imagine flying around the world, landing on all 7 continents, spending a few hours on the ground at each stop, and doing it all in less than a week.
Oh, and run a marathon at every stop: Seven marathons on all seven continents, in just six days. Only 110 people in the world have done it, and only one of them is from Rhode Island. He and 50 others just finished up the World Marathon Challenge on Monday.
Nick Wishart of Pawtucket posted video updates from every stop greeting his supporters from Novo, Antarctica; Cape Town, South Africa; Perth, Australia; Dubai, United Arab Emirates; Lisbon Portugal; Cartagena, Colombia; and Miami, Florida, before running a marathon in each location.
Wishart says, "You get out, you run a marathon, you go to a hotel, you take a shower, you get up, you get back on the plane."
He says the fourth race was the hardest one, but nothing about the trip was easy.
Wishart says, "Even just getting in and out of the hotel, getting your stuff together to get to the start line. Everything was tough."
He slept on the plane between races, and he ate meals whenever he could.
Wishart says, "It was just burgers, chicken sandwiches, eggs, you know the stuff they served us on the plane."
At some stops, time was so short, the runners had to get ready in airports.
Wishart says, "People were changing where like the baggage claim was, at customs, changing into running stuff."
And, he did it all for charity
Wishart says, "Our daughter was born a month early, so that's why we did the March of Dimes. We have a stray doggie from the Caribbean, so we did a little SPCA. And one of our close friends used to volunteer at the food bank, so that's kind of a special place for her."
By the way, Wishart's average time was 4 hours, 19 minutes, and 6 seconds per race.
He's still adding up the donations. You can learn more about his journey as well as donate toward his causes at his website and Facebook page:
https://www.facebook.com/nickwmc2018
©WLNE-TV / ABC6 2018