Pawtucket man sentenced to life for 2014 murder of New Bedford man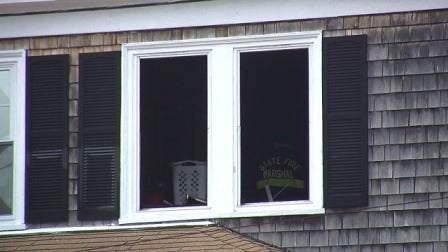 A Pawtucket man was sentenced to life in prison Monday for the 2014 murder of a 29-year-old New Bedford man.
After a seven-day trial, the Bristol County District Attorney's Office said Sayyid Coggins, 44, was convicted of first-degree murder and arson.
The district attorney's office said Coggins had previously gone to trial on the same charges in 2016 but it ended in a mistrial after a juror wasn't honest with the court and refused to participate in deliberations.
District Attorney Thomas Quinn said Justin Downey died on April 15, 2014.
Leading up to April, Quinn said Downey inherited more than $100,000 from his grandparents. He used that money to grow marijuana, which was in an upstairs room where he lived in New Bedford.
Coggins and Downey knew each other, authorities said.
"Throughout March 2014 the defendant and the victim tried to grow marijuana together. But as they got towards April, the marijuana plants weren't growing well, and were not ready for cultivation and sale," said Quinn.
As a result, they came up with a different plan. That plan, Quinn said, centered around Downey giving Coggins $15,000 to buy drugs for the 44-year-old to resell in small amounts "with the hope of making a substantial profit."
However, the district attorney said evidence presented at trial showed that instead of going through with their plan, Coggins "spent a large portion of the money gambling at Twin Rivers Casino."
"By the time of the murder, the defendant and the victim had fallen out with one another due to the defendant's actions and unwillingness to repay the victim the $15,000," said Quinn.
On the night of April 14, Coggins went inside Downey's home, killed him, and took several marijuana plants, according to authorities.
Quinn said after Coggins killed Downey, he lit the bedroom on fire and fled. He was found 10 days later in Georgia.