Pawtucket Red Sox Owner, Ben Mondor Passes Away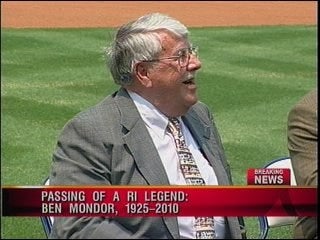 ABC6 News has learned that the owner of the Pawtucket Red Sox Ben Mondor, has passed away. He was 85-years-old.
The PawSox issued the following statement Monday,
It is with profound sadness that the PawSox family announces the passing of Pawtucket Red Sox owner Ben Mondor. Ben passed away peacefully last evening at his home in Warwick Neck, RI at the age of 85.
He was an incredible and charitable man who was first and foremost devoted to his wife Madeleine, along with his PawSox family and the entire community at large.
Mondor's family is in the process of making funeral arrangements.
Rhode Island Governor Don Carcieri issued the following statement regarding the passing of Mondor,
Rhode Island has lost a beloved figure and a true friend. Ben Mondor made the Pawtucket Red Sox one of the most successful Minor League franchises, and gave the average fan access to professional baseball and to so many great Red Sox players. The affordable and friendly atmosphere at McCoy stadium is well-known. That did not happen by accident; Ben Mondor made it his aim to keep the professional baseball experience within reach of the average Rhode Islander.
Ben Mondor meant a great deal more to Rhode Island than just owning a baseball team. He was a community leader who supported so many worth causes and who exemplified civic responsibility. I extend my and Mrs. Carcieri's condolences to Ben's family and the sympathies of the State of Rhode Island to them and to the Red Sox organization.
ABC6 News will have a full report on the passing of Ben Mondor, on ABC6 News "First @ 4"
ABC6 News has set up a "Ben Mondor Remembrance Page," you can visit it by clicking HERE