Pawtucket students honoring our Veterans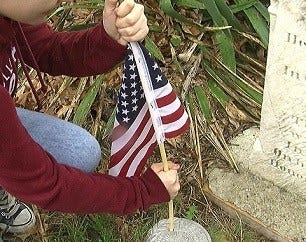 By: Chelsea Priest
cpriest@abc6.com
Twitter: @chelseapriest
With just over a week until Memorial Day, some local junior high school kids are getting a jump on honoring our veterans.
Armed with a long list of veterans buried at the Oak Grove Cemetery in Pawtucket, students from Goff Junior High searched the headstones for names. One student explained, "my teacher has a list and we read out the names and then we find the names and flag them."
About sixty 6th, 7th, and 8th graders were there to show their respect. Aubarie Brown is a 7th grader, she said, "I think it's important because veterans fought in the war for us, some them have died or got injured just for us and I think we should recognize them for that." Andrew Roi is another 7th grader. He said, "It's not just important to me, I said it was important to the family and friends of the veterans."
The rain couldn't stop the kids marking and flagging over one hundred grave sites. Some of the veterans buried at the cemetery fought in the Civil War and even the War of 1812. But as the years have gone on, many headstones have been damaged by vandalism and age. One student said, "we felt bad because some of the stones were broken, and some of them had fallen over."
Ken Postle is a volunteer at Oak Grove. He was glad to see the kids spending time at the cemetery today. He said, "now I know that after we're gone, they're the generation that's going to take care of these memorials. Now these kids have a passion and if they know someone coming in here smashing stones, they're going to say, "what are you doing?""
All of the students also wrote essays about why honoring our veterans is important. Many hope this becomes and annual event.
(C) WLNE-TV 2014