PC Beats Rival URI on Bentil Tip-in at the Buzzer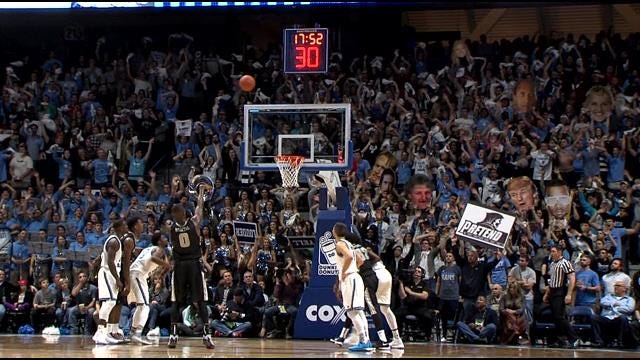 KINGSTON, R.I. –(AP) Providence junior Kris Dunn isn't just a special player who puts up special numbers. He has the ability to make those around him much better.
Take Ben Bentil for example. Last season as a freshman for the Friars, Bentil averaged 6.4 points. Now a sophomore, Bentil is emerging as one of the top talents in the Big East.
Bentil scored his team's last four points, including a tip-in at the buzzer after Dunn missed a layup, in No. 23 Providence's 74-72 victory over Rhode Island on Saturday night.
The winner capped Bentil's 23-point effort against the Rams, who have dropped six straight games against the Friars. Bentil has led Providence (8-1) in scoring in four of the last five games.
"He's improved a lot and has been one of the best forwards in the country that we've seen on film," Rhode Island coach Dan Hurley said. "He's a strong player. Obviously, a guy like Kris Dunn takes a lot of pressure off everyone and puts guys in great spots."
Friars coach Ed Cooley elected to not call a timeout after Rhode Island (5-3) tied it 72 with 7 seconds. Jared Terrell hit the shot to cap a 19-point outing for the Rhode Island sophomore.
Dunn streaked into the frontcourt and continued driving all the way to the rim. His bid wouldn't drop, but Bentil tipped it in. The officials briefly reviewed the play before running the shot counted.
"We talked about getting it in quick and drive it to the basket and everybody rush to the glass," Cooley said.
Providence's two biggest plays came in the last 35 seconds. Tied at 70, Rhode Island nearly forced a turnover on Dunn, but a wild pass from midcourt was deflected right to Bentil for a go-ahead dunk.
"It was one of those 50-50 balls. All you're trying to do there is make a play," said Bentil, who added eight rebounds.
Rhode Island did respond, but couldn't come up with one final defensive stand.
"Crushed by the loss because obviously it's one we wanted to get and felt like we could get if we played well," Hurley said. "There were some plays that we left out there and they made one more forceful play."
As usual, Dunn filled the stat sheet with 15 points, five rebounds, and five assists. He did have six of Providence's 11 turnovers. Rodney Bullock helped the Friars with 16 points on 6-of-9 shooting, and Junior Lomomba had 10 points while playing a team-high 37 points.
Hassan Martin closed with 15 points and eight rebounds for Rhode Island. Jarvis Garrett had 17 points, and Christion Thompson added 10 points on three 3-pointers.
WHICH IS IT?
Depending on which school you believe, the game was either the 128th meeting — that's what the Rams are saying — or the 126th encounter, which is what the Friars believe.
QUOTE OF THE NIGHT
Cooley created some buzz when he stated that the annual showdown is not a rivalry game. He did not back down from that declaration when asked about it during the postgame.
"Let's put it out there because I think everyone is sideways on this. As a fan of which I am of Providence College and the University of Rhode Island, I cheer for URI because it's good for our state," Cooley said. "As a fan, it's a rivalry game. As a coach, it's my job and how I feel.
"When you talk about a rivalry, you're talking about someone who plays twice a season and competes for a league championship. As a coach, I'm here to play the next game. This was the next game on our schedule."
TIP-INS
Providence: The Friars are 145-106 against teams from the Atlantic 10.
Rhode Island: The Rams are 13-93 against Top 25 teams. Their last win came in November 2014 when they beat then-No. 21 Nebraska 66-62 in overtime in Kingston.
UP NEXT:
Rhode Island plays its fourth straight home game Tuesday night against Hartford.
Providence hosts Boston College on Wednesday night.