PC bounces Butler to advance in Big East Tournament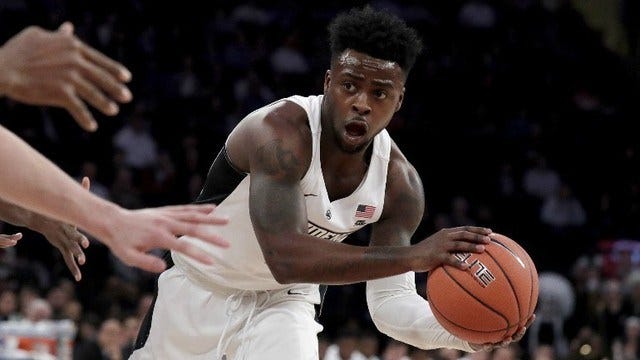 By TOM CANAVAN=^AP Sports Writer=
NEW YORK (AP) _ Maliek White scored a career-high 19 points and Providence overcame a slow start to beat Butler for the third time in 16 days, posting an 80-57 victory in the first round of the Big East Conference Tournament on Wednesday night.
Alpha Diallo added 18 points and eight rebounds as the eighth-seeded Friars (18-14) shot 56 percent from the field after making 2 of 12 in the early going at Madison Square Garden.
David Duke had 16 points and Isaiah Jackson added 13.
The win advanced Providence to a quarterfinal game against No. 25 Villanova (22-9), which clinched its fifth outright regular-season title and the top seed on Saturday. The Wildcats beat the Friars twice this season.
Jordan Tucker scored 14 points and Aaron Thompson had 12 to lead Butler (16-16). Kamar Baldwin, who was leading the Bulldogs with a 17.5 point average, was limited to eight points, a season low in a conference game this season.
Providence, which probably needs to win the tournament to get a sixth straight NCAA Tournament berth, struggled early. A combination of poor shooting and turnovers allowed Butler to open a 17-7 lead.
That's when White and Diallo took over, combining for 19 points as the Friars closed the half with a 31-10 spurt. White, who had 17 points combined in his last four games, scored 13 on the final 15 for a 38-27 lead. He finished 8 of 11 from the field.
Butler got within six points early in the second half, but White hit a layup to ignite a 15-point run that featured seven points by Diallo.
BIG PICTURE: Butler: Struggled at end of season, going 4-6. Had been to the NCAAs the last four games and won at least one game. P
rovidence: Will go to some postseason tournament, but needs three more wins in the next three days to go dancing.
UP NEXT Butler: Waits to see if it gets a postseason berth to a tournament other than the NCAA.
Providence: Will face the defending national champions in quarterfinals Thursday at noon.