PC Coach Cooley Named an Assistant for U18 National Team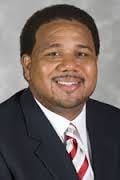 PC news release…
PROVIDENCE, R.I. –
It was
announced today (Feb. 4) that Providence College men's basketball Head
Coach Ed Cooley will be one of two assistant coaches for the 2014 USA
Basketball Men's U18 National Team at the FIBA Americas
U18 Championship. Cooley will work with former Friar and current
Florida Head Coach Billy Donovan, who is serving as the Head Coach of
the U18 team. University of Arizona Head Coach Sean Miller will be the
other assistant coach.
While
the location and dates for the 2014 FIBA Americas U18 Championship are
still to be announced, the competition will feature a U18 national team
from eight
countries throughout the FIBA Americas zone, including Argentina,
Brazil, Canada, Dominican Republic, Mexico, Puerto Rico, Uruguay and the
USA. The top four finishing teams will qualify for the 2015 FIBA U19
World Championship for Men.
USA
Basketball will conduct a training camp June 10-19 at the U.S. Olympic
Training Center in Colorado Springs, Colo., which will be used to
determine the 12-player
roster. Players eligible for this competition must have been born on or
after Jan. 1, 1996.
Originally
known as the FIBA Americas Junior World Championship Qualifier, the
tournament was held every four years between 1990-2006. FIBA changed its
calendar
following the 2006 championship, and the tournament is now conducted
every other year, followed in the next summer by the FIBA U19 World
Championship. USA men's teams are 43-2 in the U18/Junior World
Championship Qualifiers and have won gold in 1990, 1994,
1998, 2006, 2010 and 2012, while capturing silver in 2008 and bronze in
2002.
"I'm
honored to have the opportunity to work with USA Basketball again this
summer," Donovan said. "I've said it before, but anytime you are chosen
to represent
your country, that is really something special. USA Basketball is an
outstanding organization, and I'm looking forward to another challenge
at the FIBA Americas U18 Championship.
"I
have a lot of respect for Sean Miller and Ed Cooley, and I'm really
looking forward to coaching with them," Donovan added. "I look at this
as a collaborative
effort between all of us, and I know it will be a great experience
working alongside both men."
While
both assistant coaches will be aiding on a USA Basketball U18 national
team for the first time, they each have served as court coaches during
training
camps.
Last
summer, Cooley served as one of the three court coaches for the 2013
USA Basketball Men's U19 World Championship Team training camp, which
was held June
14-19, 2013. Cooley also worked with Donovan, who served as the Head
Coach of the U19 team last summer.
"It
is an honor to represent our country and wear the red, white and blue,"
Cooley said. "This is special to be able to work with two future Hall
of Fame coaches.
I feel blessed to have this opportunity to work with and learn from
Billy and Sean, not to mention we get to represent our country. It is
very inspiring."
In
his third season as the head coach at Providence, Cooley has led the
Friars to a 16-6 record overall and a 6-3 mark in the BIG EAST this
season. In eight
seasons as a head coach, Cooley has posted a 142-107 mark.