PC Fans Had High Hopes For Tournament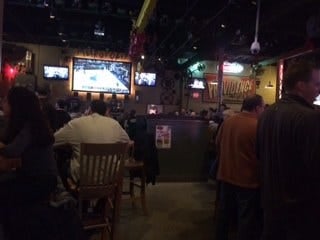 Lots of excitement in and around Providence as PC played their first game in the NCAA tournament. The Friars faced Dayton Friday night.
Locals bars were packed with fans cheering the team on. Fans ABC 6 News caught up with have some very high hopes for the team.
"I think they're going to win the whole thing I think they got the heart and sole and it's going to be awesome," said Annika Ljungberg a PC Alum.
"They are going to win they're obviously going to win and I think they're gonna win by 10 plus points," said Mike Levin.
"I'm pretty amped up I'm ready I'm ready. First time first appearance they have a pretty legit shot. They're going to the sweet sixteen," said Jason Madwed. "I'm expected a close battle more offense than defense id say they're gonna win by 10 to 15 points.
Unfortunately, PC Friars bounced out of the NCAA Tournament by Dayton.
Dyshawn Pierre scored 20 ponts and Dayton rode a loud home-crowd advantage to another NCAA Tournament victory. They beat Providence 66-53 Friday night.
The winner of Friday nights game will play Oklahoma.
(C) WLNE 2015