PC Friars Bounce Butler Behind Ben Bentil's 38 points, Advancing to the Big East Semifinals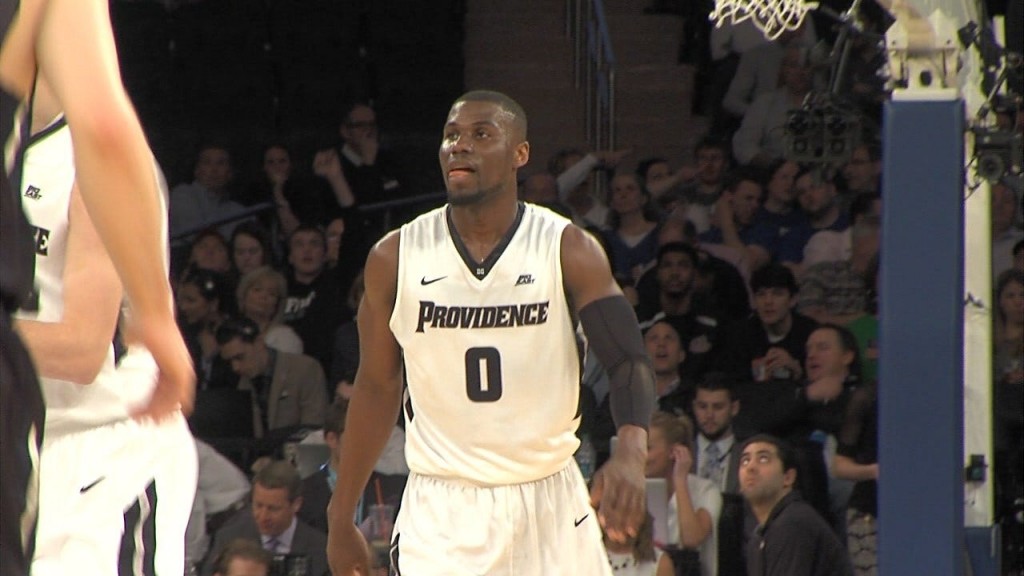 NEW YORK — (AP) Providence quickly figured out that all Ben Bentil needed was the ball.
The 6-foot-9 sophomore scored 38 points with an impressive array of power moves and long jumpers, leading the Friars to a 74-60 victory over Butler in the Big East Tournament quarterfinals Thursday.
"That was a great offensive display. I haven't seen that in a long, long time in our league," Providence coach Ed Cooley said.
Kris Dunn added 15 points and seven assists for the fourth-seeded Friars (23-9), who led for nearly 37 minutes and pulled away in the second half. They advanced to the semifinals Friday night at Madison Square Garden against third-ranked and top-seeded Villanova, an 81-67 winner over Georgetown.
"Ben, I told them in the locker room, I was a fan today. Normally I'm not a fan, but today literally I was a fan to see the ball going in the net like that, and he scored it every imaginable way — drives, shots, step-backs. I'm like, man, I've got to get him the ball any way I can," Cooley said.
"Kris came in the huddle and said, `Where do we get him the ball next? Can we throw him the ball here?' I said, `Kris, I don't know. Give him the ball. He'll figure it out."
Bentil's dazzling performance matched the second-highest scoring output in tournament history. Donyell Marshall had 42 points for Connecticut against St. John's in 1994.
"From the beginning of the season Coach told me I'm going to be a matchup nightmare," Bentil said. "I let that sink in. I did. I tried to take advantage of whoever was put on me."
Kellen Dunham scored 17 to pace No. 5 seed Butler (21-10), winless in three Big East Tournament games since joining the league. He was 5 for 6 from 3-point range, and Kelan Martin added 13 points and 10 rebounds.
Bentil pulled down eight boards in a game between teams with similar NCAA resumes. Both seem to have sufficient at-large credentials, but Providence will certainly feel more comfortable on Selection Sunday after winning this March matchup to complete a three-game sweep of the season series.
Butler could be sweating out a spot this weekend, though the Bulldogs lost for only the third time in 10 games.
"Definitely, definitely a tournament team. I thought today's game was more about seeding for each of us," Cooley said.
Bentil led the league in scoring with a 21.2 average yet was beaten out by back-to-back winner Dunn for Big East player of the year. In this one, the muscular forward with a surprising outside shooting touch was the star of the show.
"No one has the combination in our league that they have," Butler coach Chris Holtmann said.
Bentil went 16 of 24 from the field, including 5 of 9 on 3s, and scored only one point at the free throw line. He grimaced and limped to the bench during a timeout with 2:26 left but remained in the game.
"We had no answer for Bentil. We had zero answer. We threw the house at him a few times. We tried to play zone," Holtmann said. "He was outstanding."
Martin scored the first five points of the second half, giving Butler its first lead and completing a 15-0 surge. But the Friars responded immediately and took the lead for good on a 3 by Bentil with 15:32 remaining.
He scored 13 points in 5-plus minutes as Providence regained control, 56-45. The Friars extended the advantage to as many as 19 with 3:13 left.
"We got a steady dose of Ben scoring on all cylinders," Dunham said. "We didn't take away their tendencies very well."
—
TIP-INS
Butler: Senior guard-forward Roosevelt Jones was held to five points on 1-for-9 shooting in 37 minutes. He was averaging 14.3 points per game. … Butler came in leading the Big East in scoring at 81.3 points per game but was held to 36.2 percent shooting. "We played out of character at times," Holtmann said. … Butler fell to 4-9 at Madison Square Garden.
Providence: Bentil finished four points shy of his career high established Feb. 10 against Marquette. He tied the school record for points in a Big East Tournament game set by Jamine Peterson against Seton Hall in 2010. … Providence shot 60.7 percent in the second half and finished at 55.4 percent. … The Friars have won four straight overall. … Providence leads the all-time series 6-1.
SIGH OF RELIEF
Dunn was shaken up midway through the second half and trotted back late on defense holding his upper chest. He stayed in the game.
UP NEXT
Butler: Hoping for an at-large bid to the NCAA Tournament on Sunday.
Providence: The Friars split two meetings with Villanova this season, winning the first one in overtime at Philadelphia on Jan. 23. The Wildcats edged Providence 63-61 in the Big East semifinals last year with the help of a questionable call. "I really think this is going to be a street fight. That's how we're going to have to do it," Dunn said.