PC Friars Fall to Butler on Senior Day at the Dunk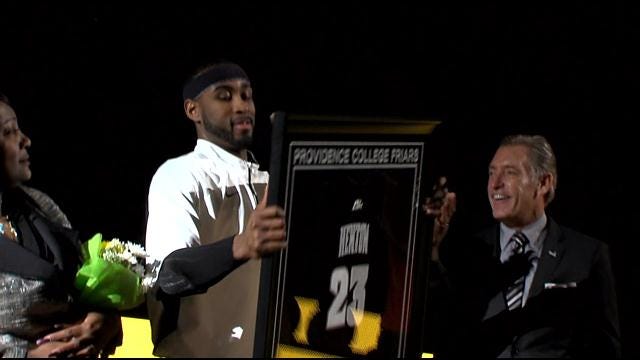 PROVIDENCE, R.I. — Butler coach Chris Holtmann didn't mince words when referencing the type of team he will be bringing to New York City for next week's Big East Tournament.
"Sometimes you say it just to say it, but this is a really good team," Holtmann said after his 21st-ranked Bulldogs held off No. 24 Providence 68-64 on Saturday. "To beat a really good program on their Senior Day, all of the credit really belongs to our kids. They had the right competitive approach and we were able to sneak one out."
The teams entered the final day of conference season in a three-way tie for second in the Big East with Georgetown. The win means that the Bulldogs will head into the conference tourney as the third seed while the Friars will be No. 4.
Roosevelt Jones led Butler (22-9, 12-6) with 16 points, 10 coming in the second half. Holtmann noted that Jones and Kameron Woods were vital to the Bulldogs' ability to slow down Friars senior LaDontae Henton, the leading scorer in the Big East. Henton finished with just eight points on 2 of 10 shooting.
"I don't think I have to tell anyone that LaDontae is a really good player and a prolific scorer," Holtmann said. "He was certainly a focal point in our scouting and you can't relax one possession with him. He's that good."
Kellen Dunham had 15 points for Butler while reserve Kelan Martin added 14 points. The Bulldogs won for the ninth time in 12 games.
Kris Dunn led Providence (21-10, 11-7) with 23 points, six assists and four steals and Tyler Harris had 17 points on 7 of 12 shooting. The Friars were looking to win 12 Big East games for the first time in program history.
"You've got to put the regular season behind us, but it's now on to the next one," Providence coach Ed Cooley said. "We'll look forward going to New York."
The Friars won the tournament last year, beating Creighton in the final.
Behind Dunham and Martin, the Bulldogs dominated the first half and took a 33-22 lead into halftime. Providence shot just 28 percent (7 of 25) and was outrebounded 21-14.
The Bulldogs led by as many as 16 points in the second half before a furious charge by the Friars made it 50-49 with 7:32 remaining. Butler answered behind five straight points from Martin and a 3-pointer by Dunham to go up 58-49.
A three-point play by Dunn helped the Friars close within 62-59 with 49 seconds left but two free throws apiece from Woods and Dunham helped lock things up for Butler.
"It's not the end of the world because we lost a game," Cooley said. "We have a lot of basketball left to play."
Neither team shot the ball particularly well as Providence hit 41.1 percent from the field while Butler was at 39.2 percent. The Bulldogs won the rebounding battle 39-27.
TIP-INS
Providence: Henton, Harris and Carson Desrosiers were honored during pre-game Senior Day festivities. Also recognized was God Shammgod, who is on track to graduate in May. Shammgod first showed up on campus as a promising freshman in 1995 and left school two years later to pursue a pro basketball career that took him from the NBA to China. He returned to Providence three years ago as an undergraduate assistant coach.
Butler: Bulldogs sophomore Andrew Chrabascz grew up in Portsmouth, Rhode Island and played two years at Portsmouth High before transferring to Cushing (Mass.) Academy. The 6-foot-7, 225 pound forward got off to a strong start against Providence with seven of Butler's first 12 points. Saturday was Chrabascz's second game back after sitting out four straight games with a hand injury. He finished with nine points, five rebounds and four assists.
FREE THROWS: Butler made all 20 of its free throw attempts with Jones leading the way with an 8 for 8 showing.
VOCAL TALENT: The national anthem was sung by Desrosiers' sister Candice.
"She definitely has the singing talent in the family. I don't know where she got it," Carson Desrosiers said.
UP NEXT
Providence: At the Big East Tournament quarterfinals on Thursday.
Butler: At the Big East Tournament quarterfinals on Thursday.
Copyright by STATS LLC and The Associated Press