PC Friars Stun 23rd Ranked Creighton on Kyron Cartwright's Last Second Shot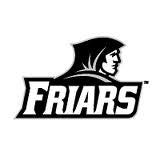 OMAHA, Neb. — (AP) Kyron Cartwright made a 3-pointer with 2.2 seconds left to give Providence a 68-66 victory over No. 23 Creighton on Wednesday night.
Cartwright's shot from the right wing was the Friars' first field goal in more than 5 minutes and gave them their first lead since the opening 4 minutes of the second half.
Khyri Thomas's 3-point try ahead of the buzzer for Creighton bounced off the rim.
Emmitt Holt scored all 18 of his points in the second half for the Friars (17-11, 7-8 Big East), who won their third straight and avenged a 78-64 home loss to Creighton on Jan. 7.
Marcus Foster had 18 points and Justin Patton added 17 for the Bluejays (22-6, 9-6).
The Bluejays had taken a 64-62 lead with 4:36 left when Patton caught Foster's air-ball floater on the other side of the basket and put it in for an easy layup. Foster's nifty move underneath made it 66-62 with 3:32 left, and the Bluejays didn't score again.
The pace slowed, and the Friars were able to get within a point on two free throws by Isaiah Jackson and another by Rodney Bullock.
Creighton led 54-47 after Thomas made a 3 and a layup in transition.
Providence stayed within range with Bullock on the bench, and it was tied 62-all with 5:43 left when Jalen Lindsey took a cross-court pass on the wing and drilled a 3-pointer.
Cartwright finished with 13 points and 10 assists and Bullock added 10 points and 12 rebounds for the Friars, who were 12 of 24 on 3s.
BIG PICTURE
Providence: The Friars came to Omaha after six days off following wins over Butler and Xavier. They looked at this game as another chance to fuel a late run for a fourth straight NCAA Tournament bid, and they're still on track after this hard-earned victory.
Creighton: The Bluejays couldn't hold on for the win and are 4-5 since star point guard Maurice Watson Jr. went out with a season-ending knee injury.
UP NEXT
Providence hosts Marquette on Saturday. The Friars won the first meeting 79-78 on the road Jan. 28.
Creighton visits No. 2 Villanova on Saturday. `Nova won 80-70 in Omaha on Dec. 31.