PC Friars Upset Georgetown for 1st Road Win Over a Ranked Team in Ten Years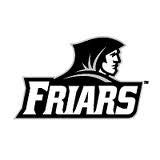 WASHINGTON — Ben Bentil had 16 points and 11 rebounds, and Providence rallied to beat No. 24 Georgetown 74-71 on Wednesday night.
LaDontae Henton also scored 16 points and Carson Desrosiers had 14 for the Friars (17-6, 7-3 Big East), who also beat the Hoyas 60-57 on Jan. 10.
Providence used a 20-6 run to take a 66-65 lead. The lead later changed hands four times in the final 1:51.
Trailing by one after two Desrosier free throws, Georgetown (15-7, 7-4) turned the ball over while inbounding under the Friars' basket with 11 seconds left.
Bentil's two free throws made it 74-71, and a 3-point attempt by Georgetown's D'Vauntes Smith-Rivera rolled around the rim and out with two second remaining.
Smith-Rivera finished with 21 points.
The Friars, winners of four of five, had lost 31 straight road games against ranked teams dating to 2004.
The Hoyas were held without a field goal after Smith-Rivera's 3-pointer with 7:41 left.
Kris Dunn, the conference's reigning player of the week, had 12 points and nine assists for Providence.
Georgetown opened a double-digit lead midway through the second half as Providence struggled to hold onto the ball.
With the Friars trailing 59-46 with just under 12 minutes to play, Henton hit a 3-pointer that sparked the big run for Providence. Desrosiers capped the stretch with a pair of baskets in the lane, pushing Providence to its first lead of the half with 4:37 remaining.
Desrosiers' two free throws gave Providence a 68-66 advantage at the 3:46 mark, and neither team scored until the Friars were whistled for a foul and a dead ball technical with 1:51 left.
Jabril Trawick went 1 for 2 at the line and Smith-Rivera made two foul shots to put the Hoyas up 69-68 with 1:51 left.
Henton and Smith-Rivera traded a pair of free throws, and Georgetown led 71-70 with 45.9 seconds to go before Desrosiers was fouled with 32 seconds left and made both to put the Friars up 72-71.
Georgetown went 6 for 12 from 3-point range in the first half and led 41-38 at the break.
TIP-INS
Providence: Henton set a new Friar record with his 123rd career start. He also took sole possession of sixth place on Providence's scoring list with 1,855 points. He began the day tied with Marvin Barnes.
Georgetown: The Hoyas had won seven straight home games against the Friars. . Smith-Rivera has made two or more 3-pointers in nine straight games.
UP NEXT
Providence visits Xavier Saturday.
Georgetown visits Villanova Saturday.
Copyright by STATS LLC and The Associated Press