PC Goalie Jon GIllies Named 1st Team Hockey East All-Star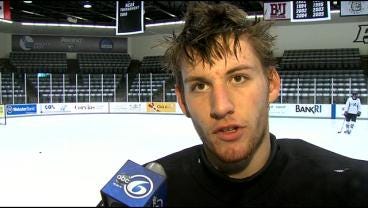 Ken Bell
PC news release…
CAMBRIDGE, Mass. – A day after being named to the All-Rookie Team, the awards continued for Providence College men's hockey freshman goalie Jon Gillies (South Portland, Maine) as the Hockey East Association announced Gillies as the League's Rookie of the Year as well as a First-Team All-Star at the annual championship awards banquet on Thursday night.
Gillies made Hockey East history, becoming the first freshman to be selected as the first-team goaltender. Additionally, he is just the third freshman at any position to be named to the first team, joining Hockey Hall-of-Fame defenseman Brian Leetch (Boston College) and Hobey Baker winner Paul Kariya (Maine) in the exclusive group. Stephen Wood was the last Providence first-team (2003-04). Overall, Gillies is the ninth Friar all-time to be named a First-Team Hockey East All-star.
Gillies was also named the League's Rookie of the Year, becoming the third Friar to earn the honor and the first to do so in outright fashion as Rob Gaudreau (1989) and Craig Darby (1992) had previously been named Co-Rookies of the Year.
Gillies has a 17-11-6 record, including a Providence College single season record five shutouts, to go along with a 2.08 goals against average and a .931 save percentage, which is tenth-best in the nation. He has made 961 saves this season, which ranks fifth-most on the all-time PC single season saves list. His five shutouts rank as the second most on the PC career shutouts list with Mario Proulx.
Highlighting Gillies' five shutouts were 44 saves in a 2-0 win against the University of Massachusetts (Jan. 12), 37 in a similar showing a month later against then fifth-ranked New Hampshire (Feb. 13), and 31 in a critical 3-0 road win at UMass-Lowell (March 8) on the final weekend of the regular season.
A 2013 Walter Brown Award semifinalist, Gillies has earned multiple Hockey East honors this season, including being named the Hockey East Rookie of the Month twice (November and February), Defensive Player of the Week four times (Oct. 15, Nov. 26, Feb. 11 and March 11) and Rookie of the Week five times (Oct. 22, Oct. 29, Jan. 14, Feb. 18 and Feb. 25). His nine weekly awards lead Hockey East.
Junior defenseman Steven Shamanski (Carberry, Manitoba) was named a Hockey East Honorable Mention All-Star. Playing in all of Providence's 37 games this season, Shamanski has two goals and a career-high 12 assists for a career-best 14 points. His 12 assists rank tied for the third-most on the team. He netted the shorthanded, game-winning goal at Northeastern on Feb. 23 and also registered a career-best three assists at New Hampshire in Providence's 6-5 win on Jan. 19.
Yesterday, Gillies became the first Friar goalie to earn All-Rookie status since Boyd Ballard in 1997-98, while senior Tim Schaller (Merrimack, N.H.) was named the League's Best Defensive Forward.
After besting New Hampshire in the quarterfinals last weekend, two-games to one, the Friars will take on top-seeded UMass-Lowell in the Hockey East Championship Tournament Semifinals at 5:00 p.m. on Friday, March 22 at the TD Garden in Boston, Mass. The game will be televised by the NBC Sports Network (NBCSN) and the New England Sports Network.