PC Guard Kris Dunn Named CBS Sports Preseason First Team All-American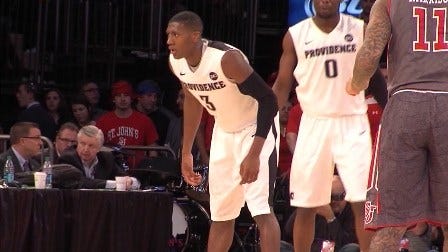 Providence College Press Release
PROVIDENCE, R.I. – It was announced on October 6 that Providence junior guard Kris Dunn (New London, Conn.) was selected as a Preseason First Team All-American by CBS Sports. Joining Dunn on the CBS Sports Preseason All-America First Team are Oklahoma guard Buddy Hield, LSU forward Ben Simmons, Gonzaga forward Kyle Wiltjer and Kentucky forward Skal Labissiere.
Dunn has earned a number of other preseason honors this fall, including being named 2015-16 Blue Ribbon College Basketball Yearbook Preseason National Player of the Year. He also was named to the 2015-16 Blue Ribbon College Basketball Yearbook Preseason All-America Team and was named to the Sporting News Second Team Preseason All-America squad. In addition to being an All-America candidate in 2015-16, Dunn should be a BIG EAST Player of the Year, Wooden Award, Naismith Award, Cousy Award and National Defensive Player of the Year Award candidate this season.
Dunn, who recorded the second highest Friar single-season assist mark with 247 assists, earned a number of honors in 2014-15, including BIG EAST Player of the Year, BIG EAST Defensive Player of the Year, Associated Press Honorable Mention All-America, USBWA All-District 1 First Team and NABC District 5 First Team honors. Dunn became the first Friar ever to earn the BIG EAST Player of the Year honor and the first guard in the history of the BIG EAST to capture Player of the Year and also earn Defensive Player of the Year in the same season. Dunn led the league in assists (7.5) and steals (2.7). He ranked third in nation in assists per game and fifth in the country in steals per game. Dunn also led the league in both of those categories in conference play and became the first player in the history of the BIG EAST to accomplish that in the same season. He also averaged 15.6 points and 5.5 rebounds per game. Dunn ranked sixth in the league in scoring and 13th in rebounding. He tied for the team lead with seven double-doubles. On January 29, Dunn became the 14th player in BIG EAST history to register a triple-double in a league game with 27 points, 13 rebounds and 11 assists versus DePaul. Dunn was the first Friar to record a triple-double since Geoff McDermott accomplished the feat versus Harvard on Dec. 22, 2006 with 12 points, 11 rebounds, and 10 assists. Dunn's triple-double was the ninth in Friar history and the first for the Friars in BIG EAST play.
The Friars, who finished last season with a 22-12 mark and made their second consecutive NCAA Tournament appearance, will open the 2015-16 season on Saturday, November 14 versus Harvard at the Dunkin' Donuts Center. Season tickets for all home games can be purchased Monday through Friday from 8:30 a.m. – 4:30 p.m. at the PC Ticket Office in Schneider Arena, at Friars.com or by calling (401) 865 GOPC.